Hamlet, Fantaine and Tevye. These roles are coveted by actors and playing them are seen as high points in their careers on the stage.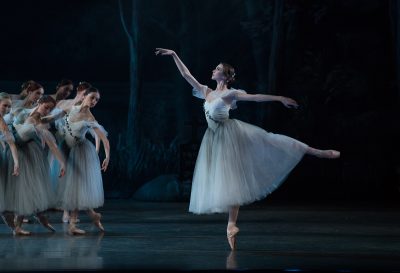 On Sept. 19, the Citizens Bank Opera House opened its doors to audiences for Boston Ballet's 11-day production of "Giselle," and ballerina Chisako Oga has been given the role of a ballerina's career. 
"Giselle," which was first performed in Paris in 1841, follows the story of a young woman named Giselle and her tumultuous romance with a young nobleman named Albrecht. 
While the story has already been performed for generations, the task for each ballerina who takes on the titular role is to make it their own. Doubling as Giselle and second soloist at the Boston Ballet, Oga said her connection to the role felt distant at first. 
"It is just one of those ballets that's such a classic, and you know, everyone knows it, and everyone dreams to become Giselle one day," Oga said. "But for me for some reason the role seemed so distant … It seemed like a role that 'Oh, I'll never be able to do that.'"
Oga overcame her doubts thanks to the mentorship of Larissa Ponomarenko, Boston Ballet's Humphrey Family ballet master's chair. Oga said she rehearsed for her role with Ponomarenko, who had an "amazing" experience playing the role of Giselle herself.   
"Learning from her was definitely a big step for me," Oga said. "Just hearing her, getting her knowledge passed down to me was just something that really stood out and I think that if it weren't for her, I wouldn't have been able to get to where I am today to perform the role."
Just as connection to the character is important, the rehearsal process is also an integral part to the overall performance. Oga went through six-hour rehearsal days to prepare for becoming Giselle. The rehearsals, while seemingly long and daunting, became a source of motivation and anticipation to perform for Oga. 
"Even when you're tired and you're sore, sometimes you don't want to do it," Oga said. "But at the end where for me, the end product is what I'm excited to see and I'm excited to show the audience. So, any hard day of rehearsal becomes a treat for me."
As a performer, the combination of all the performance elements builds  excitement in terms of audience reaction. Oga said she hopes that the audience walks away having felt a personal connection. 
"I would hope that the audience can kind of be able to go along with Giselle's journey and Albrecht's journey and be able to maybe connect in a way that relates to them, that's what we do this for," Oga said.
Giselle, at its essence is a romantic ballet, is filled with emotion that requires audience attention to follow. While it may seem intimidating to first-time ballet viewers,  Micki Taylor-Pinney, director of dance at Boston University's Fitness and Recreation Center, said reading the libretto – the story – in one's program is helpful. 
"Giselle" is intended to be a very emotional ballet, it's about love and deception," Taylor-Piney said. "And while it may be a foreign language, the ballet vocabulary, I think that there is a lot of similarities to how you see people interact with one another and how they use their hands to express themselves. 
Taylor-Pinney said ballet is highly-relatable and that the historic art form is always evolving. She added that watching a ballet performance allows oneself to be fully-immersed at the moment.
"It's a perfect opportunity to allow yourself to be immersed in something other than social media and to be swept away by the storytelling," Taylor-Pinney said. "There's usually live music, and you're in a space where you're allowed to imagine and to escape reality for two and a half hours and you are surrounded by other people doing the same thing."
For a lot of young dancers, "Giselle" is perceived as a dream role to land. Lily Tower, a College of Arts and Sciences senior who had performed variations of the ballet for other productions, said the role can be a challenge. 
"Ballet is an incredibly difficult, yet rewarding art form and the grace and discipline pays off in the performance," Tower said. '"Giselle" is, in my opinion, one of the more difficult ballets to perform and as such, it is always an incredibly moving performance."