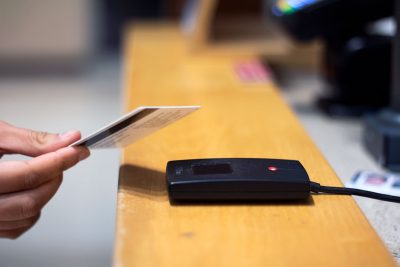 The cost of a meal swipe differs between dining plans, according to calculations made by the Daily Free Press. Students with the 250 Plan are paying more money to swipe into Boston University dining halls than students with the 330 Plan.
BU offers seven dining plans of varying prices and different combinations of dining points and meal swipes. A calculation of the pricing of individual meal swipes shows that the different plans put different values on a swipe.
In order to find how much money students are paying for each meal swipe in their dining plan, first the cost of each dining plan was subtracted by the amount of dining points the plan provides. One dining point was given the same value as one dollar in the calculation because food bought at on-campus locations cost the same in dining points as it does in dollars.
The remaining amount was then divided by the amount of meals the plan provides. The 20 guest swipes provided in most plans were included because students are able to use a guest swipe for themselves.
Putting each plan through this calculation results in different costs for swipes under different plans.
The 330 and 250 plans both cost $5,480 per year, with the 330 Plan giving students $630 in dining points and 330 swipes plus 20 guest swipes per year. The 250 Plan gives students $1,180 in dining points and 250 swipes plus 20 guest swipes per year.
The calculated cost of one meal swipe under the 330 Plan is $13.86. The calculated cost of one meal swipe under the 250 Plan is $15.93.
If the 250 Plan swipes were valued at $13.86 as they are in the 330 Plan and the plan still cost the same amount, it would have to include either more meal swipes or more dining points to account for the value difference. A 250 Plan with swipes worth $13.86 would thus include 310 swipes (including 20 guest swipes) ⁠— 40 more than the plan currently provides. Alternatively, if the plan still provided 270 swipes, it would provide $557.80 more in dining points than it currently does.
When asked via email why these two plans value a meal swipe differently, Paul Riel, the associate vice president of Auxiliary Services reiterated that the 250 plan has less meal swipes and more dining points.
"The difference in values is attributable to having a higher number of dining points associated with the 250 plan," Riel wrote.
The 14-Plus Plan has a $10.64 cost per swipe, assuming all 14 swipes are used every week.
Meal swipes under the Kosher plan cost $14.03, assuming all 11 swipes are used every week.
The Unlimited Plan has a higher cost of $5,810 per year and the cost per swipe can't be definitively determined, but if a student with this plan uses three meal swipes every day, the cost comes out to $8.05 per swipe.
The two apartment plans, the 500 Plan and the 1000 Plan, vary in price and the amount of dining points but both value meal swipes at $10.42 per swipe.

BU Spokesperson Colin Riley said this difference exists because of the different costs associated with serving breakfast, lunch or dinner. BU has determined that students using different plans are more likely to use swipes for certain meals more often than others.
"We actually do have a very good idea," Riley said. "We know that most of the students use it for dinner if they're doing their 14 or fewer meals. Very few people who have that 14 meal plan … will chose to eat breakfast."
Riley also said that the university prioritizes flexibility and quality in the meal plans offered.
"They design meal plans to provide some flexibility for what students anticipate they will use and how they consume," Riley said. "And if you look at the dining services plans, you'll see that the key here is to provide high quality, nutritious, varied meals that meet the needs of college students who are very active and need nutrition and protein."
The university is always seeking ways to improve the current meal plan offerings, Riley said.
"If one is not something that is popular or being used wisely then they would modify it," he said.
Kaylee Wang, a freshman in the College of Communication, said she is happy with her choice of the 14-Plus Plan and said the quality of the food in the dining hall matters more than the varied costs per meal.
"I do think it is expensive, but I really like the food in the dining hall," Wang said. "So it's totally okay with me."
Taylor Alford, a junior in CAS, opted out of a meal plan this year as she did not find herself using enough swipes to justify the cost.
"Why pay money for something I didn't use all last year," Alford said. "Like I never used any of my meal swipes, I was left with over half of them when I ended."
Madeline Salman, a sophomore in the College of General Studies, said she was unaware of how the cost of a meal swipe varies according to each dining plan.
"I know I'm paying for the convenience of dining points, but I still think that my meal swipes should have the same dollar value," Salman said. "So if I pay $11 for a salad at the GSU, I'm going to want to pay around the same amount for a meal at the dining hall."
Salman also said she understands why costs may be high at BU.
"The food at BU does tend to be better and fresher than other schools that I've seen," Salman said. "But at the same time, I really don't have any other option as a student. So I think that the school does have the potential to reach a happy medium between price and also quality."
Alex LaSalvia contributed reporting to this article.