After three straight losses, the Boston University field hockey team (3-4, 0-1) will travel to Storrs, Connecticut on Sunday to take on the No. 3 University of Connecticut Huskies (7-1, 1-0).
The Terriers fell to the Bucknell University Bison (4-3, 1-0) Sunday 1-0 to start Patriot League play on a bad note. It was also a historic day at New Balance Field. BU's 17-game winning streak against conference opponents at home was snapped. The streak dated back to 2013.
It was the first time the Terriers were shut out in 2019 and head coach Sally Starr said one goal should never be enough to beat her team. 
"We need to have the ability to score two goals, three goals," Starr said.
The Terrier offense had plenty of chances to tie the game in the fourth quarter but were unable to convert. Freshman goalie Caroline Kelly made three saves in the losing effort.
Starr said she is looking to see better execution from her attack. She wants to "get more shots, corners, goals and not squander the ball position."
BU will be taking on a very balanced UCONN team on Sunday.. They have 23 goals over their first eight games and their scoring margin of 1.98 is eighth best in the nation. The Huskies have also only allowed seven goals from their opponents this season. That's good for a mark of 0.88 a game.
Connecticut's one loss of the season was to No. 11 University of Michigan (5-2) by a score of 3-2 on Sept. 13 in Ann Arbor, Michigan. 
"They [UCONN] are a very disciplined and well structured team and very dangerous in their attacking end," Starr said.
UCONN's defense has been a key factor for their season. They have shut out their opponents in half their games. It's impossible to lose when the other team doesn't score. The BU offense will have to find their stride quickly if they're going to upset the Huskies. Sunday's loss was the first time BU was shutout since last season's 2-0 defeat to Miami University in Ohio in the NCAA Tournament.
The Huskies' "Big Four" has accounted for 18 of the team's 23 goals this season. Those players are senior Svea Boker, sophomore Abby Gooderham, freshman Sophie Hamilton and freshman Marie Auer. Boker is the team leader with six goals while her other three teammates have four goals each.
Coach Starr was wary of the threat UCONN posed. 
"We will need to defend with both intelligence and grit and take advantage of counter attack opportunities," Starr said.
The goalkeeping has been stellar as well for UCONN, courtesy of redshirt sophomore Cheyenne Sprecher. Her 32 saves on 39 shots on goal results in an 82.1 percent save percentage which is number six in the NCAA.
The matchup to look out for will be the Terrier offense against Cheyenne and the Huskies defense. If BU is able to muster enough offense, Kelly can give them a chance to win in the net. She has given up three or more goals just three times this season.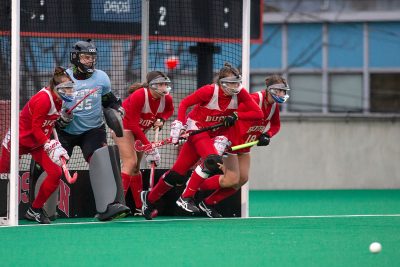 The Terrier's leading goalscorer junior Ailsa Connolly has been held scoreless during BU's three game skid. She has five goals in 2019 but has not found the back of the net since Sept. 8 against Northeastern.
A win for BU on Sunday would put them back at .500 with a record of 4-4. The Terriers started 5-3 in their first eight games in 2018.
Starr will need her team to play to their strengths if the are to overcome the stern challenge posed by UConn. 
"Biggest thing I want to see is positional discipline," Starr said. "When we are playing the system correctly we are playing very good hockey."