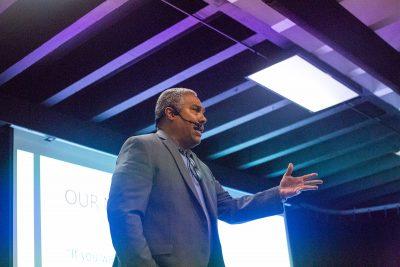 Boston University's Office of the Provost hosted sociologist Eduardo Bonilla-Silva as the first speaker in its Diversity & Inclusion Fall 2019 Speaker Series on Thursday.
Bonilla-Silva, a James B. Duke Professor of Sociology at Duke University and the president of the American Sociological Association, delivered a lecture to members of the BU community titled "What is Race?" that focused on contemporary issues of race, identity and society.
Bonilla-Silva began his talk with a discussion of how notions of race in Latin America and his native Puerto Rico differ from popular conceptions of race in the U.S.
"Race is indeed a socially-constructed category," Bonilla-Silva said. "Because race is socially constructed, one must recognize that the rules and regulations of who belongs to x and y race are historically, locally and nationally contingent."
After providing examples of figures who would be perceived differently in Latin America and the U.S. according to their race, Bonilla-Silva moved on to a discussion of race versus racial identity.
"In general, people's race is externally ascribed … you are Black, White, Asian, or Indian based on how people interpret your appearance," Bonilla-Silva said. "Identity in general is how you perceive yourself and want people to perceive you, identity then has a more personal, individual-level character than race."
Once he established his definitions of race and identity, Bonilla-Silva noted that "contemporary racial inequality is a result of contemporary racial affairs" before beginning a dialogue about how the current state of American racial affairs is defined by a "new racism."
Bonilla-Silva said that new racism, or color-blind racism, is used in a subtle way, appearing to be nonracial at all. He compared it to the Jim Crow era.
"The end of Jim Crow did not mean the end of structural racism," Bonilla-Silva said. "A new racism is in town … [it is] the idea that race is no longer a central factor determining the life chances of all of us."
He cited contemporary practices of housing and labor discrimination as examples of new racism and stressed the role of language that seeks to relegate racism to the remote past.
Bonilla-Silva concluded with a call to action.
"'If you want change you can truly believe in, you must organize and fight for it," Bonilla-Silva said.
Maddy Mermelstein, a senior in the College of Arts and Sciences and the College of Communication, said she was inspired to attend Bonilla-Silva's talk after reading excerpts of Bonilla's book "Racism Without Racists" in her sociology course.
"Race, and slavery, are at the centers of every single structure in this country," Mermelstein said. "And so I think it's just necessary to have these conversations and know the history because every other thing that you do or learn are products of this institution."
Michael Rosegrant, a junior in the College of Fine Arts, said conversations about race are important because they involve issues that have affected countless people in profound ways.
"The reality of people of color throughout history is that [race] is not something one can opt out of," Rosegrant said. "It's important [to talk about race] because of the realities of colonization, imperialism, slavery and racism that imposed historical oppression against various communities around the globe based on phenotypic presentation."
Rea Pittie, a freshman in the College of Arts and Sciences, noted that BU's diverse student body makes topics related to race particularly relevant.
"I guess this is a really diverse place, you have international students from all over the world," Pittie said. "It's already difficult to settle in, in a whole new continent … you don't want to feel even more isolated if you're gonna face racial issues."