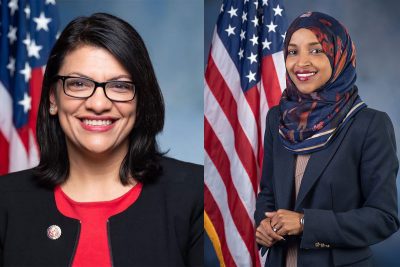 The Massachusetts Republican State Committee voted to support a resolution last week declaring their support for Israel while condemning U.S. Rep. Illhan Omar (D) of Minnesota and U.S. Rep. Rashida Tlaib (D) of Michigan for opposing Israel's actions in the Middle East. The move raised immediate controversy, drawing critical responses from the Massachusetts Democratic Party and Massachusetts Governor Charlie Baker.
The resolution — approved on Sept. 17 — came after the two congresswomen recently voiced support for the Boycott, Divestment, Sanctions movement that supports Palestinian independence and opposes Israel's expansion in the Middle East. Their backing of BDS prompted Israel to bar them from visiting the country.
In the resolution, the MassGOP accused Omar and Tlaib of supporting terrorists, aligning themselves with Holocaust deniers and advocating for the destruction of Israel.
"Both Congresswomen have repeatedly demonstrated an anti-Semitic demeanor that is contrary to Congressional ethics, social mores, and common decency," the resolution states.
That initial resolution was met with harsh disapproval by MassDems, with party chair Gus Bickford calling the resolution a "decision to double-down on Donald Trump's outrageous, racist attacks on Democratic congresswomen of color," in a statement released by MassDems on Sept. 19. 
"Charlie Baker and [Lieutenant Governor] Karyn Polito deserve condemnation if they allow their own Massachusetts Republican Party to continue to spout wild, racist vitriol inspired by Donald Trump," Bickford said in the statement.
Baker said in his monthly appearance on Boston Public Radio's "Ask the Governor" segment that he did not think the MassGOP made the right decision in approving the resolution.
"I don't think it accomplishes very much and I think it degrades public discourse," Baker said. "While I certainly probably don't agree a lot with either of those congresswomen, they were duly elected by the people of their districts and that's who they're accountable to."
The resolution was drafted by Tom Mountain and Marty Lamb who are both co-chairmen of the Jewish Republican Committee. Lamb said to The Daily Free Press that he and Mountain wrote the resolution to stand up against what they felt to be "anti-Semitic" sentiments that Omar and Tlaib were promoting and wanted to emphasize the MassGOP's support for Israel.
"From my personal point of view, I can only speak for myself," Lamb said, "it is making people aware of a national issue that does affect, in my opinion, every Jew and non-Jew that's important."
Lamb said that the MassGOP has taken several actions over the past six months to target anti-Semitic actions, including releasing several press releases targeting "anti-Semites" across the country.
Lamb said that a resolution has no binding legal power, but that the awareness generated by such a document is crucial.
Chance Charley, president of the BU Students for Justice in Palestine, wrote in an email that he was not surprised by the Republican party's decision to release the resolution.
"It's unsurprising that the Republican Party would stand by Israeli apartheid and Zionism," Charley wrote. "In fact, supporting Israel and its colonial project has long been a bipartisan effort. With a handful of Democrats now not sticking to that narrative, the GOP resorts to racist slander (such as claiming Reps. Tlaib and Omar are aligned with terrorist groups) to silence dissent and stoke the flames of hatred."
As for on-campus opinions, Charley said he hopes for a solution that does not involve discriminating against any group of people.
"BUSJP believes in a solution where Jews, Palestinians, and all people can live together in a democratic, secular state, and we oppose any 'solution' which deprives people of basic democratic rights," Charley wrote.
Andrea Abbott, 28, of Allston, said she thinks the hostility surrounding this issue is indicative of a larger trend.
"It's definitely not surprising to hear that the parties are going back and forth again," Abbott said. "They're constantly unable to agree on the simple things. Even in a state as liberal as Massachusetts there's so much contention and hostility, especially when it comes to Israel and Palestine."
Fenway-Kenmore resident John Valvana, 73, said he supports Israel, but thinks Palestine and its supporters should have a chance to express their opinions.
"I stand with Israel, too," Valvana said. "I think that a lot of the policy that exists in this country is based on money that they've received from donors in Israel. But I do think the Palestinians deserve to be heard and the homeland issue should be addressed. One thing that we do know is present administration, they're not in it for Israel. [President Donald Trump is] just for himself and his family."
Amy Hanes, 38, of Arlington, said the resolution is a reflection of the discrimination that is present in today's politics.
"I think there's a s–t ton of sexism and racism and that the backlash about going to Palestine is really about anti-Palestinians sentiment," Hanes said. "And it's dressed up as politics and it's dressed up as international affairs and stuff, but clearly we've seen a lot of racism."