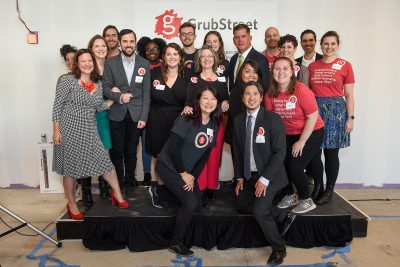 Boston Mayor Martin Walsh has teamed up with GrubStreet, a Boston based non-profit that hosts creative writing classes both online and throughout the city, to begin construction of a new cultural space at Fan Pier in the South Boston Waterfront. 
The 13,166 square foot space will be transformed into a narrative arts center, featuring year-round programming for local students, a cafe, a community writing space, a podcast studio,  writing classroom and a bookstore run by Cambridge-based bookseller Porter Square Books, according to a city press release.
GrubStreet will receive $329,150 dollars, or $25 per square foot, from the city to build the new facility, and will only pay $1 in rent, according to the press release.
Sean Van Deuren, senior communications manager for GrubStreet, wrote in an email that the new space will allow the organization to better serve the people of Boston.
"We're busting out of our current space and ready to take this exciting leap," Van Deuren wrote. "It's an opportunity for us to stay in the city while also deepening our mission and providing more opportunities for our writing community to develop artistically and to stage readings and performances."
Visitors to the center will be able to attend book launches, live readings, slam poetry, open mic performances, storytelling events and other productions led by writers and artists in the community, according to the press release.
Josh Cook, a bookseller at Porter Square Books, said he hopes this project will allow his bookstore to strengthen its relationship with the GrubStreet community while also connecting with the South Boston neighborhood.
"We love Cambridge and we love working with this community that we've built here." Cook said. "But it is also exciting to get a chance to learn about a new neighborhood to see what they're reading in South Boston and Dorchester and the Seaport … and to build a community bookstore that is a fit for that specific community.
Van Deuren wrote that the new cultural space will foster a diverse range of writing styles and artists within the South Boston community and that GrubStreet believes that reading and writing has the power to bring people together and build mutual understanding and respect.
"We believe that everyone has a story worth telling and we're committed to creating a space where any person … will find a home to explore their voice whether they're interested in writing a first poem, exploring their family's story, or working on a novel," Van Deuren wrote.
The city considered multiple criteria before selecting GrubStreet for the space, some of which include the applicant's ability to develop a welcoming space that serves a diverse population, according to the press release.
The construction of this new cultural space is part of Walsh's Boston Creates Cultural Plan, a 10-year proposal that aims to integrate arts, culture and creativity into everyday Bostonian life by hosting cultural events, building public spaces and advocating for the arts.
Scott Sinasky, 51, of Fenway, said he thought the city needs more spaces like the new GrubStreet location for residents to learn about the arts.
"[The space] just gives people a creative place to go and learn and express themselves," Sinasky said.
Mary Ellen McAndrews, 66, of Back Bay, said the space would be a welcome contrast to Seaport's commercial properties and that there should be more public places that promote creativity.
"A lot of opportunities for artists and just people to hang out," McAndrews said.