As Commonwealth Avenue quietly buzzed with activity in preparation for returning Terriers in August, an installation crew stood eagerly on Bay State Road waiting for a shipment that embodied a year and a half of emails, design, labor and patience.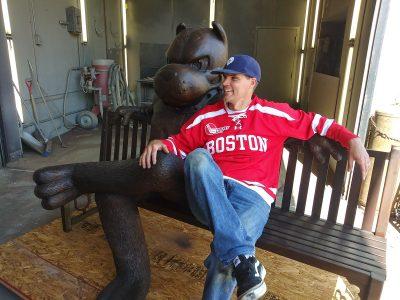 The Rhett bench arrived enroute from Utah over the summer, according to Courtney Knauss, associate director of alumni relations in stewardship and donor relations at BU who was in charge of communicating with people to get funds for Rhett Bench.
"Before it was even drilled into the ground, people were sitting on it and taking pictures," Knauss said.
Located just steps away from the Alan and Sherry Leventhal Admissions Center and Dahod Family Alumni Center, the new Rhett Bench greets a perpetual stream of not only current students and faculty, but also alumni and prospective students.
The statue depicts a 5-foot-2-inch replica of BU's beloved mascot sitting one of the many wooden benches across BU's campus. His arms are relaxed behind him, his legs, etched with seemingly wispy hairs, are crossed in a casual manner and his football-sized snout points straight ahead, as if pre-posing for a perfect Instagram-worthy shot. 
For most students, the Rhett bench appeared to just magically greet them once they returned for the fall semester. However, its appearance and integration on campus was not the product of a miracle, but the hard work and talent of a man more than 2,300 miles away: Virgil Oertle.
Since earning his Master's in fine arts from the Pennsylvania Academy of the Fine Arts in 2009, he has been working in both sculpture and portraits, receiving multiple awards for his work, including from the Utah Art Guild and the Springville Museum of Art. 
A long-time artist and sculptor, Oertle initiated his now well-known mascot bench project in 2013, somewhat by accident, when his then-manager requested a pitch to a local university. His sketch of a mascot bench was awarded the project and the concept soon blossomed into a business. 
"It was kind of the [start] for the rest of all the other projects that I've done," Oertle said, "knowing that people usually love their mascots."
Prior to Rhett, Oertle had taken up more than 10 mascot projects for schools, including Radford University, the University of Utah and Brigham Young University. He said Rhett is only one of four mascot benches he produced this year. 
At the age of 13, Oertle began practicing his father's craft, chainsaw sculpting, and continued throughout high school to gain some extra spending money. It quickly became more than a job, Oertle said, and the resulting passion soon began to define his future. 
"The desire to be a great sculptor has grown in me ever since and I see myself chasing that dream the rest of my life," Oertle said.
Knauss said the idea for the project came about while the BU Castle was being renovated into the Dahod Family Alumni Center. The goal of the new sculpture, she said, was to bring the BU community together and "just to bring school spirit and foster traditions."
The funds for the project were raised by the Alumni Council in only a few weeks, Knauss said.
As manager on the project, Knauss communicated directly with Oertle and together they turned their visions into a reality.
After Knauss and her team selected the sketch they liked best from Oertle, he started fabricating the bench out of stainless steel, constructed a skeleton of Rhett's body and covered it in clay. When the skeleton was approved, a rubber mold was sent to the foundry to be cast in bronze⁠ — the only part of the process Oertle did not complete himself. 
After the casting, Oertle put the last touches of coloring on the sculpture and loaded it onto a truck that carried Rhett to his new home.
"My fulfillment comes at the very end, when it shows up on campus and people say how much they love it," Oertle said. "It's kind of a delayed gratification for me. I'm doing the work and hopefully as the project goes along everybody loves it."
College of Arts and Sciences alumni Tiffany Han and Han Han, who works for Alumni Relations at BU, enthusiastically posed with the Rhett Bench over Alumni Weekend. 
"It looks even better in person compared to the initial photos that we saw," Han said. "I definitely feel like it's a new landmark."
The mascot holds a uniquely special place in the couple's heart. Han Han hired the Rhett mascot to help enhance the magic of his proposal to Tiffany, who was thrilled at the surprise.
"Just the idea of having a very bold, dynamic loveable mascot is something that means a lot for us, with the BU pride that we constantly feel and have felt for the last 20 plus years," Han Han said. "So just to see it immortalized in this bench is really neat.