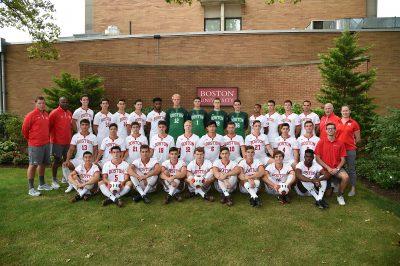 The Boston University men's soccer team hasn't had the greatest start to its season to put it lightly.
After starting the season just under a month ago, the Terriers (0-7-1, 0-1 Patriot League) have not won a game and have only scored three goals on the season. After drawing at Brown University on Sept. 18, BU head coach Neil Roberts said the arrival of Patriot League play comes with a chance to regroup.
"It all starts tomorrow," Roberts said. "Season number two starts tomorrow, obviously season number one wasn't what we'd hoped for.
Unfortunately for the Terriers, conference play opened with a tough last minute road loss against Lafayette College in Easton, Pennsylvania. This weekend, BU will continue Patriot League play on the road at Lehigh University (5-2, 1-0 Patriot League). Last season, The Terriers fell to the Mountain Hawks 2-1 in overtime at Nickerson Field. Senior midfielder Satchel Cortet scored for the Terriers in that game.
Offensive Struggles
The Terriers have put plenty of shots on the board, but their struggles stem from being unable to direct those shots to their intended target. The team is averaging 11.1 shots per game, but only 30 percent of those shots are challenging the goalkeeper or finding the back of the net. For instance, against Merrimack College on Sept. 10, the Terriers fired off a whopping 22 shots, but only five were on target, none of which resulted in a goal in the 3-0 loss.
Roberts said the team struggles to find clean looks in the box because they struggle to set up an attack down the wings.
"I think once we can establish that[attacking from the wings], we'll be able to move on and do what we need to do," Roberts said.
BU is being outscored by its opponents 12-3 in its first eight games and the team is currently giving up an average of 1.5 goals per game. If it weren't for junior goalkeeper Michael Stone, who has been stellar thus far, the Terriers could be in much worse shape.
Goalkeeping Keeping Terriers Afloat
Stone, a transfer student from Amherst College, has kept games alive for BU throughout the season and his efforts have been recognized by the Patriot League. On Sept. 2, Stone was named the Patriot League goalkeeper of the week after making 15 saves in two games against nationally ranked University of New Hampshire and arch-rival Boston College.
Stone has allowed 11 goals in the seven games he's played, and three of those goals come from a nightmare 3-0 loss to Merrimack College inflates that number. Stone has made 33 saves in his seven games, including 10 saves in a single game against New Hampshire. 
Roberts said Stone has been a great addition to the team, but he is overworked.
"That's what we've been looking for, someone who can make a big save for us," Roberts said. "If a goalkeeper can come up with two big saves that should be enough for a day… so we better cut that down."
Stone hasn't been alone, backup junior goalkeeper William Bonnelyche replaced Stone in net against Brown in the second half of a 1-1 draw and helped the Terriers earn a draw in overtime. Bonnelyche made two stops on the night and held the Bears scoreless for 65 minutes.
Youth Movement
Upperclassmen provide valuable minutes for BU and make the majority of starts, but Roberts has included many freshmen in his lineups.
Freshmen like defensive back Griffin Roach and midfielder Miles Dycaico play a considerable number of minutes, with 569 and 549 minutes respectively. Midfielder Marc Roura also gets a lot of playing time and has assisted on two of the three goals scored by the Terriers this season.
Against Brown and Northeastern University, Roberts took advantage of out-of-conference play to give some of the younger guys on the team some experience.
"I think that was like five or six freshmen that got a lot of playing time," Roberts said. "So it's good experience for them."
Mountain to Climb
Last season, BU fell in the Patriot League quarterfinals to the U.S. Military Academy in a shootout at Nickerson Field. The Terriers will look to rebound from that result last season, but it will be a tough task.
After Tuesday's match against Northeastern, the Terriers will play four straight conference games, half of their remaining games against Patriot League opponents.
First, the Terriers will travel to Pennsylvania to play Lehigh before coming home for a Turnpike Trophy bout versus College of the Holy Cross and then stay at Nickerson for a Saturday matinee versus Colgate University. Finally, BU will end this four-game Patriot League stretch against American University down in the nation's capital.