The Boston University Men's Soccer Team trekked to Ulrich Sports Complex in Bethlehem Pennsylvania Saturday night as they faced off against the Lehigh University Mountain Hawks (6-2-0, 2-0 Patriot League). After a 2-1 lead at the first half, Lehigh's sophomore forward Josh Luchini recorded his first hat trick resulting in a 4-2 loss for the Terriers. 
The Terriers (0-8-1, 0-2 Patriot League) were defeated after a long defensive struggle to shut the Mountain Hawks down. Luchini scored his first goal in the 11th minute of the game amidst the momentum of a steal by Lehigh freshman Natan Rosen. Lehigh's momentum came to a halt as junior goalkeeper Michael Stone came off his line to save a shot by Luchini. 
Senior forward Matt McDonnell headed a pass from sophomore midfielder Kari Petursson to tie up the game 1-1. Senior Mana Chavli become the third Terrier to register an assist after intercepting a pass and dribbling to the box where he was able to set McDonnell up for another header. The half closed with a 2-1 Terrier lead which BU head coach Neil Roberts believes to have exemplified their offensive and defensive strength as they held Lehigh to only four shots. 
However, in the second half Lehigh recorded 9 shots and finished the game with a total of 13 whereas the Terriers recorded just six.
The Terriers blocked a goal from fifth year midfielder Alex Greene at the 60th minute, but Greene remained on the offensive attack and assisted Lehigh's junior midfielder Stevo Bednarsky goal in the 62nd minute. 
The Terriers almost clenched the lead during the 62nd minute as a long free kick was sent into the box, but Lehigh's goalkeeper Will Smith was able to make a diving save on BU's senior midfielder Satchel Cortet's shot. 
Lehigh's Luchini was able to complete two more plays during the 69th and 83rd minute by breaking through BU's defensive backline to hoist the Mountain Hawks to their 4-2 victory. 
Head Coach Neil Roberts believes the teams performance was strong until the start of the second half.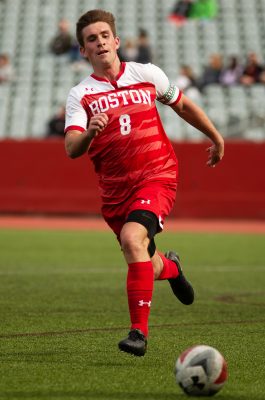 "In the first 20-25 minutes we lost our way defensively," Roberts said. "We lost tracking people, we lost defending well like we had been doing most of the season and most of the game." 
With that in mind, the Terriers are working on their defensive game in pursuit of a victory to uphold their six year unbeaten streak against the College of the Holy Cross Crusaders on Nickerson Field at 7 p.m. on Oct. 2.