Despite what the internet-coded, Gen Z mind may assume, Boston AF does not stand for Boston As F***. It stands for American Field, a company looking to change the way consumers interact with brands, which hosted a pop-up marketplace in Boston on Sept. 28 and 29.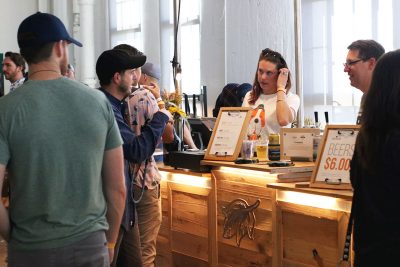 The start-up, created in 2012, is focused on changing the consumer shopping experience by building and elevating other companies' brands. 
For Abigail McKenna, AF's chief of staff, the company is about more than just introducing consumers to specific brands, but what it means to support small businesses on a large scale. 
"We don't sell anything ourselves," McKenna said, "we're here to build brands, we're a platform."
AF is a company designed to build the brands of other companies. Every one of AF's partners is reputable and undergoes an application process. Partners include L.L. Bean, Krammer & Stoudt and Green Mountain Energy. 
Sustaining and operating a small business can be incredibly challenging, McKenna said.
"The small guys can kinda get swallowed up by ECommerce, especially by the big guys like Amazon and eBay," McKenna said. "We're looking to be a platform to really help them find their key demographics." 
Boston AF focused primarily on domestic artisanal businesses. Their expo this past weekend was designed to provide a physical showcase to show off the smörgåsbord of products being offered by their partners. 
The event occupied a large space in the Design Center in South Boston. 
The event hosted companies like the Maine based Allagash Brewing Company, whose founder Rob Tod was recently awarded the James Beard Award for Outstanding Wine, Beer, Or Spirits.
Familiar companies like CÎROC and Verizon were there scattered amongst the newer, up-and-coming brands. 
Mike Johansen, the owner and operator of Tuck Life, a New England beachwear inspired brand, attended Boston AF to get connected with new customers and expand the brand's reach.
"[It was] a great opportunity to market to the local area and also to be a part of a 'maker's market' where people can realize that we all can make our own stuff," Johansen said. 
While Johansen sources the fabrics and materials for his items elsewhere, all of his products are designed and made by him.  
With the rise and dominance of shopping services like Amazon, AF has started taking the next step for their company by beginning production on a new app. 
"The AF app is in its first phase," McKenna said. " Phase 2 of that will be the transactional aspect of things and that will be coming on Black Friday and with that will be the online web portal for the online marketplace."
With the app, McKenna hopes to prevent a world in which Amazon and Google rule everyone's lives by becoming an eCommerce disruptor. McKenna sees the company as a champion and advocate for small businesses.