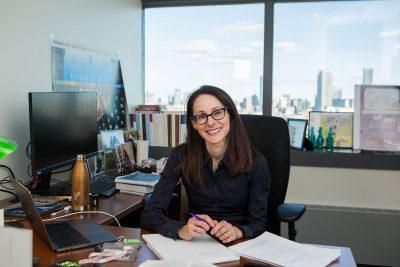 Boston University Professor of Law Danielle Citron was named a MacArthur Fellow on Wednesday, an accolade awarded annually to U.S. citizens or residents working in any field that demonstrates "promise for important future advances" and "exceptional creativity," according to the MacArthur Fellows website.
Citron's legal work in cyber harassment, privacy and cyber civil rights made her one of 26 fellows to receive the award this year, according to the MacArthur website. The fellowship awards $625,000 to the recipient to invest in their work without any conditions or limitations from the program.
When Citron was initially contacted by the program, she said she believed she was being interviewed as a source of recommendation for a friend.
"I literally laid on the floor," Citron said. "I was like 'This is not serious…' I don't even remember the conversation. I was so bewildered. I think I said 'Oh my goodness!' like a thousand times."
Citron said she has a major project in mind in regard to the new funds.
"I think principally, it is going to let me have the time to write my next book," Citron said. "I can take time from teaching at the law school — though of course I will still be at the law school — but I can take the time next year to write my new book on sexual privacy."
"Hate Crimes in Cyberspace," Citron's first book, examines online abuse and proposes lawful ways to prevent and punish online harassment. Citron's work has been published in "The Yale Law Journal," "Michigan Law Review" and "Notre Dame Law Review." Her most recent work is in regards to Deep Fake technology, a pioneering legal work in her field, Citron said.
Angela Onwuachi-Willig, dean of LAW, said Citron is an inspirational figure to her colleagues.
"[Citron is] a real leader, a fantastic scholar and — as important — she's a really amazing human being," Onwuachi-Willig said. "She's a great model for a lot of professors in terms of just not being someone who is advancing [their] own work, but somebody who is advancing the work and the lives of the people around them."
Ross Chapman, a freshman in LAW who takes a class taught by Citron said he thinks Citron is at the top of her field.
"She is a real expert in her field who is always doing work and reaching out to other folks to try and expand the idea of data privacy into new areas," Chapman said. "I feel like she has generally stressed the idea of digital privacy in the civil procedure class that we have with her, which I think is a refreshing experience … She does not divorce the subject matter from real world events and current debates."
Theresa Madonna, a postgraduate student in LAW, said Citron is well-known and liked for her expertise.
"I think it is super exciting to have her here," Madonna said. "I actually got to talk with her last week because I am thinking about writing a note for law review in the area of cyber harassment and revenge porn and things like that, so she was helping me pick a topic. It is amazing the work that she has done in that area."
Citron said receiving the MacArthur Fellowship has had both professional and personal weight for her.
"A lot of people, sadly, in my life, mostly older men, have been sort of dismissive," Citron said. "Like 'You are no big deal' or 'you just went to Fordham Law School' or whatever it was quite negative and I always beat the odds … But I guess what the [fellowship] says is you know what you were wrong … On behalf of everyone in this world that has been told they are not good enough I say you know what we are."