Environmental sound, or noise pollution, is a given in metropolitan areas across the world. At Boston University noise pollution can stem from the T stations in front of dorms or the never-ending construction on Commonwealth Avenue.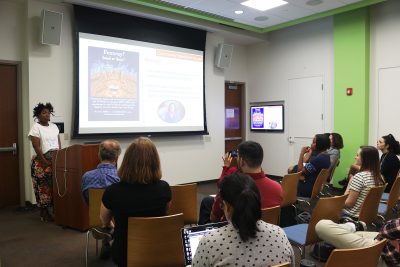 Erica Walker, a postdoctoral researcher of environmental health at the School of Public Health, introduced her app, NoiseScore, in a seminar titled "Technology, Community Activism, and Public Health: Using NoiseScore to Address Community Noise Issues" at the Hariri Institute for Computing on Sept. 26. 
The NoiseScore app, originally launched in 2017, is a community resource tool that measures environmental soundscapes in real time. The project is funded by the Radcliffe Institute for Advanced Study, according to the Noise and the City website.
Walker started off working as an artist, making furniture and binding books, she said in her talk. But when two kids moved into the apartment above her, she said she found it hard to function with the amount of noise. 
She started researching how to handle the situation and questioning how the excessive noise and banging was impacting her health, Walker said. 
After doing recordings in the field, Walker released an interactive release report online, version 1.0 of her app, which analyzed the data, she said in an interview. 
But Walker was bothered that the data was only a "snapshot" of the soundscape and wanted a more "dynamic" description of the nature of sound. The recently relaunched NoiseScore app takes that idea and puts it into real time, Walker said.
To collect data, anyone on the app can record the sound given off by their environment and answer a few survey questions about how the sound made them feel and categorize where the sound came from.
Users can view a map that provides information on recorded sound levels. A live heat map, comprised of objective and subjective community responses, depicts environmental sound in every location based on user-recorded decibels, Walker said.
"It's been established that sound levels do impact our cardiovascular and mental health," Walker said in an interview. "But I think that there needs to be [more studies] to hone in on things like how does perception play a part in that as well."
Kristen Mobilia, a 2019 candidate for Boston City Council District 8, discussed a case study on the noise in the Fenway neighborhood, where Walker said Mobilia has lived for 20 years during Mobilia's introduction.
"[When you] live in a neighborhood you don't notice there's an issue until it reaches a certain point," Mobilia said during the talk.
She described that during concerts at Fenway Park, objects will fall off of neighbors' shelves and kids have trouble falling asleep.
"The fabric of our neighborhood is coming apart [and] people don't want to live here anymore," Mobilia said.
Massachusetts State Representative Nika Elugardo also spoke at the talk and said she is curious to find out through NoiseScore how noisy her environment is.
Elugardo added that people perceive noise in different ways, and may think of sounds that are really harmful as beneficial.
"I might not perceive something as being bad for my health, I might perceive it as making me tough, making me black, making me urban," Elugardo said during the talk. "[But it] may be bad for me."
Natalie Bolton, a junior in the College of Fine Arts, said when at home in Southern California, she would wake up every morning to the sounds of construction. 
"Every little section of Los Angeles is under construction at all times," Bolton said, " because there is always something new coming or something old is being taken down." 
Having suffered from noise-related anxiety that often causes her panic attacks, Bolton said she could envision herself using the NoiseScore app when finding a quiet place to study or relax around Boston.
In terms of how individuals could use this technology, Walker said that she hopes that checking NoiseScore will be similar to how we check the weather to plan for the day. 
"Is it going to be hot is it going to be cold?" Walker said. "It'd be cool kind of to think about our soundscape in a similar way."