TEDxCambridge brought their iconic red circle across the river on Sept. 25 to the WBUR CitySpace and kicked off their first event for this fall's Salon Series.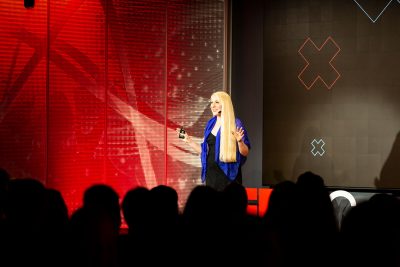 The Salon Series is made up of three, hour-and-a-half events, each with their own theme and  consisting of two talks, live music, moderated discussion and an audience Q&A session.With a maximum occupancy of 250 audience members, the salon and its multiple components cultivate a uniquely intimate experience, TEDxCambridge Executive Director Dmitri Gunn said. 
"It allows the audience to have a much deeper and richer experience with not only the ideas, but [with] the speakers themselves," Gunn said.
The event also serves as the launch for TEDxCambridge's 10th season, which began its humble origins in a classroom of 45 people, technical glitches and an insufficient coffee supply, Gunn said in his speech introducing the event.
Today the organization hosts one of the largest independently organized TED events in the world that sees 2,500 guests pack the Boston Opera House each year. Additionally, 12  speakers from TEDxCambridge have been featured in TED Talk videos to date when fewer than 50 talks are featured on TED.com yearly, as stated on the TEDxCambridge website.  
"I think it's a testament to the remarkable community that we live and work in that we're able to do that on a consistent basis year in and year out," Gunn said.
The theme of last Wednesday's event, "Morality & Altruism," was selected to relate to the audience's anxieties, fears and thoughts on a niche idea, Gunn said. The same goes for the themes of the upcoming salons, "Marine Conservation & Aquaculture" on Oct. 24 and "A.I. Ethics & Civil Liberties" on Nov. 20. 
Last week's speakers, evolutionary psychologist Max Krasnow and social psychologist Bethany Burum, were selected after a three-month long evaluation process, Gunn said.
Both speakers completed two months of intensive coaching before the show, culminating in an estimated 50 hours of preparation. Everything from their script, movement and slides were analyzed extensively in order to maximize the effectiveness of their talks. 
"I really loved going through it" Burum, a first-time TEDx speaker, said. "I learned a lot about how to communicate more clearly, even just linking concepts into language that takes the least extra processing possible."
Krasnow, the first speaker of the night, discussed the nature of altruistic acts. Through his own research simulations, Krasnow said he found that natural selection favors acts of kindness due to the benefits they have for the self, such as people performing reciprocal acts.
But Krasnow said this perspective shouldn't taint one's perceptions of selfless acts and instead is meant to help better understand them.
"It shouldn't change the way we think about it," Krasniw said in his talk, "it should tell us that we can use levers to engage moral concern when we need it."
Burum followed Krasnow with a talk about the unconscious incentives that shape one's morality and behavior. 
In Burum's research, she found that an individual was more likely to push a family member in front of a bus to save five family members, but would not do the same to save five strangers. Similarly, she found that people would not change the amount of a donation if told it would be matched, but would drastically change the amount of their savings if told they would be matched.
Burum found this was because different incentives, like money or family, made people less likely to succumb to plausible deniability, inefficient giving or strategic ignorance. Burum describes these traits as "moral loopholes" that allow inaction to persist, pointing to climate change as an instance where this has dangerous implications.
In the concluding Q&A session, moderated by Carrie Goldberg, audience members brought up questions about selflessness in war, the concept of "free-riding" and how much selflessness and morality is taught versus innate. 
Valyn Turner, a freshman in the College of Fine Arts, ran over to the event after class, thrilled this topic was being discussed "right across" from her dorm. After the event, Turner said she was fascinated.
"TED Talks do something that a lot of us forget to do these days, which is talk," Turner said. "Particularly about important and hard topics and [TED] really does a great job of opening those conversations."