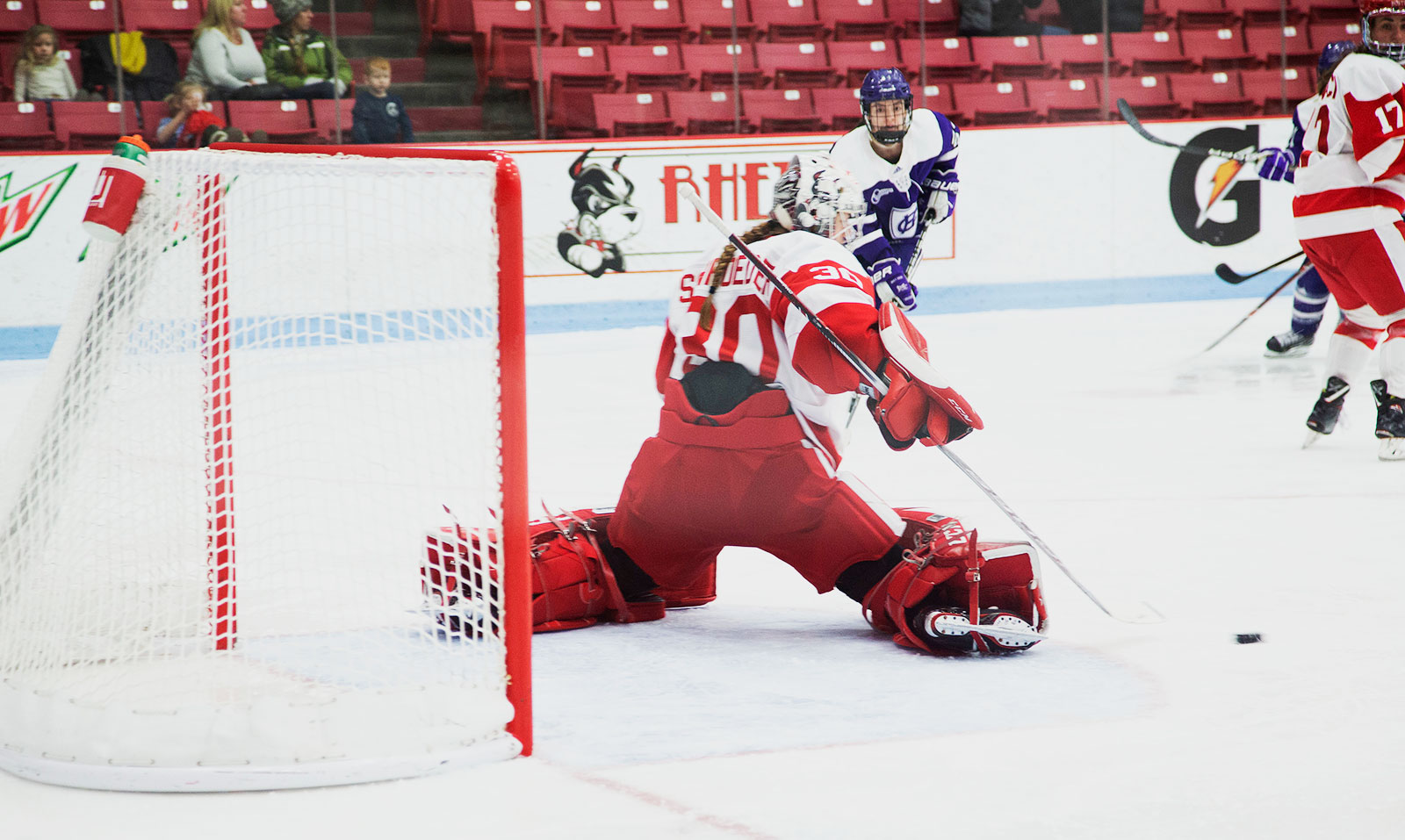 The No. 7 ranked Boston University women's hockey team had an impressive showing in the 2018-19 season. Despite starting that year 1-3-3, BU managed to catch fire around late November, winning their first Beanpot title since 1981 and finishing third in Hockey East. 
There were a lot of gears that were spinning in order for the Terriers to achieve what they did. Having Sammy Davis and Jesse Compher in the first line was the offensive spark the team needed.
Defensively, however, junior goaltender Corrine Schroeder gave the team the stonewall at the net it needed to keep the Terriers in games. The Manitoba, Canada native said she will be looking to contribute even more her junior year.
"I had some pretty good stats at the end of last year and I hope to just build on those," Schroeder said.
Schroeder's numbers last year speak for themselves. In the month of December, she was the National and Hockey East Goaltender of the Month, putting up a .964 save percentage, the best for goalies with two or more starts in that month. In addition, from Nov. 27 up to Jan. 22 she did not concede more than three goals in a game, only giving up three goals during one game in that span.
She also had standout performances in the Beanpot that gave her team the chances they needed to end their drought. Schroeder cited both this beanpot game and the first Beanpot game as the most exciting games for her last season.
The first Beanpot game went to a shootout, with BU eventually coming out on top with a 4-3 victory.
"The first game was really exciting," Schroeder said. "Nerve-wracking, but exciting."
In the Beanpot Final win against Harvard University, Schroeder recorded 30 saves and nine in overtime. 
"[The second game] being our first Beanpot win as a varsity team, that was also really exciting," Schroeder said.
Not only is Schroeder's impact based on the numbers important, but BU head coach Brian Durocher said her presence on the ice gives more confidence to her teammates.
"It's always great to have someone who is so accomplished coming into their … upperclass years giving everyone a level of confidence coming into games," Durocher said. "I think the [skaters] that play in front know that if they make a slight error… she's going to be there for most of the time."
Five of the skaters that will play in front of Schroeder will be freshmen: forwards Haylee Blinkhorn, Brooke Ersoy and Julia Nearus, as well as defenders Grace Parker and Nadia Mattivi. Schroeder cited that she hopes to give these new freshmen more confidence on the ice. 
"[Helping my team] is something that I take very seriously," Schroeder said. "[I'm] making sure that I'm always leading by example, working hard…and giving our team the best chance defensively to succeed … hopefully that just gives our freshman confidence."
Having this confidence will be key for building on last year's showing, something Durocher said was important at Hockey East media day on Sept. 26. Durocher expanded on his statements from Thursday, citing that the team will need to prevent what made them start 1-3-3 last season.
"While I felt we were playing the right way defense-first creating opportunities [last year], we just didn't score," Durocher said. "Hopefully this year with our experience and the success we had last year … we'll find a way to score goals."
Schroeder also hopes to avoid that same slow start last season and focus on the hockey fundamentals that can construct wins.
"I think last year we kind of started off a little slow and we could have improved on that," Schroeder said. "I think if we have a better start this year, play a full 60 minutes, and give it everything we have, we'll definitely succeed and do better."