Kim Petras' "TURN OFF THE LIGHT" is a masterclass in creating modern music for the spooky season without feeling restricted to its horror aesthetic. It's all thanks to Petras' ability to deliver vocals reminiscent of '80s Halloween music without compromising her modern pop sensibilities, in addition to a solid and varied synth-heavy production.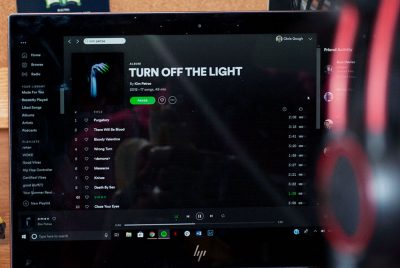 Petras is a German-born pop singer with a flare for the overdramatic. Whether it's her self-proclaimed desire for expensive material objects, evident in her Billboard chart-topping hit "I Don't Want It At All," where she demands a summer in the Hamptons, or her willingness to enter a relationship that's doomed to fail, portrayed in "Heart to Break."
Any discussion surrounding Petras can't be made without her controversial go-to producer Lucasz Gottwald, known as Dr. Luke,  who was accused of sexual and gender violence towards pop singer Kesha in 2014 . While his presence on the album is masterful, one cannot recommend this album to a reader without reminding them of who is behind its composition.
With the release of Petra's third EP "TURN OFF THE LIGHT, VOL. 1" in 2018, this year's album incorporates all of "VOL. 1" in addition to nine more tracks. 
"Purgatory" sets the tone for the album, offering orchestral-like strings with Petras' vocals harmonizing in the background before reverting to a bass, synth-heavy instrumental. Petras' signature "woo-ah!"'s are interspersed within the latter half of the song and blended into the instrumental very effectively.
This transitions flawlessly into "There Will Be Blood," the first track with prominent vocals throughout the majority of the song. With Petras' dominantly singing "There will be blood! / You're gonna die" the album wears its pseudo-campy horror motifs on its sleeves.
Enter "Bloody Valentine," where Petras repeats the phrase "my bloody valentine" constantly throughout, interwoven into another synth-heavy instrumental that would perfectly fit into the credits to an unnecessary horror film sequel.
Alternating between instrumental-dominant songs and more vocal tracks is a recurring theme throughout the album.
"Wrong Turn" makes Petras' presence known as a femme fatale, as she ends the life of her lover. In her words, her mysterious partner "took a wrong turn at the wrong time." This track presents a solid blend of overt sexuality and homicidal tendencies that wouldn't be out of place in a made-for-TV '80s Halloween special starring a female vampire.
"Knives" marks another instrumental transition track marked by the presence of knives scraping against each other before turning into another synthpop track. This song is a relative lowlight on the album due to its subdued nature not fitting the campy-yet-quality nature of the rest of the album.
"Death by Sex" marks the end of the first half of the album and brings the campy overtones of the previous tracks by eclectically repeating the phrase "death by sex," many times — to surprisingly enjoyable effect.
"Close Your Eyes," a track on the initial "TURN OFF THE LIGHT, VOL. 1" project, and packs as much of a punch as it did upon initial release. Offering an infectious hook where Petras claims she'll eat her lover's heart, she embraces the "queen of the damned" aesthetic she adorned previously to full effect.
The album's final track, "Everybody Dies," is a ballad that juxtaposes the idea of living life because, as the title suggests, everybody dies. This morbid carpe diem song embodies the mindframe of a Harley Quinn-type character in being unapologetic in her bad actions while maintaining a form of enticing melodrama.
"TURN OFF THE LIGHTS" sucks in the listener with Halloween camp and sucker punches them with frighteningly high quality vocals, production and lyrical themes — if one wishes to listen despite a problematic producer.