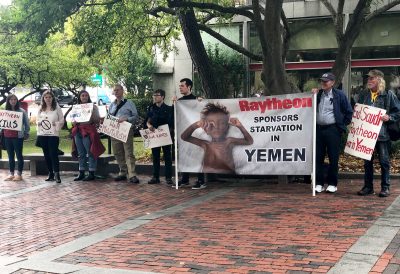 Boston University students gathered at noon Wednesday outside the George Sherman Union to protest the presence of war profiteers being represented at College of Engineering career fair held that day in the Metcalf Ballroom from 11 a.m. to 4 p.m.
Approximately 20 students gathered for two hours to chant and raise awareness of the presence of weapons manufacturing companies including Raytheon, a Massachusetts-based defense contractor company at the career fair.
Ryan Costello, 28, of the Boston area anti-war activist group United Against War and Militarism, helped students coordinate the protest. Costello said he thinks BU's welcoming of companies like Raytheon, which sells weapons and technology to the U.S. and Saudi Arabia's militaries, means the university is complicit in conflicts like the genocide in Yemen.
"Students want to go and work at a company that makes the world a better place," Costello said. "They shouldn't be pressured, economically or otherwise, to work at a company which is actually making the world an objectively worse place."
Lead organizer of the protest Chance Charley, a Students Against Imperialism member and junior in the College of Arts and Sciences, said the protest focused on Raytheon because it is based in Massachusetts but was part of a larger effort to build an anti-war movement.
"These companies are lying about what they did and they're committing genocide in Yemen, in Afghanistan, in Palestine, all over the world," Charley said.
Charley said there was a similar protest held last semester by BU students where they conducted a disruption, but this time they wanted to focus on talking to students.
"We wanted to focus on reaching the students and there's more people going in and out of the GSU so we wanted to really talk to people," Charley said.
Charley and other students gave speeches during the demonstration and protestors chanted phrases like "F— off Raytheon," "Kick out Raytheon" and "BU, you can't hide. You're supporting genocide."
Other companies protestors opposed were BAE systems, General Dynamics and the Massachusetts Institute of Technology Lincoln Labs.
The student groups that organized and participated in the protest were Students Against Imperialism, Students for Justice in Palestine and the Young Democratic Socialists with the help of Boston the organizations of Massachusetts Peace Action and United Against War and Militarism.
After the protest, members passed out fliers to promote the Stop Raytheon Benefit Concert on Nov. 5 at 7 p.m. at The Middle East restaurant and nightclub.