Swedish environmental activist Greta Thunberg, at only 16-years-old, inspired protests in more than 150 countries across the globe last month. Estimates from 350.org claim that more than 4 million people participated in strikes worldwide, making it the largest climate strike in history.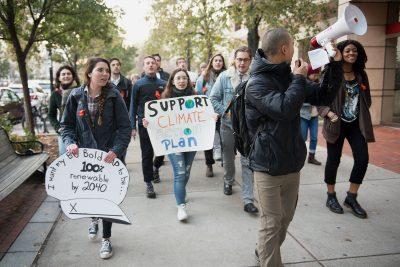 Clearly, people are starting to pay attention to climate change and Boston University students are joining in on the trend.
There are 26 student organizations on BU's campus focused on environmental action and sustainability under the BU Environmental Coalition, formed in 2011. 
Bolaji Olagbegi, a senior in the College of Arts and Sciences and the president DivestBU, a campus coalition formed in 2012 to encourage BU to divest its endowment from fossil fuel industries, said the club has been gaining steam in recent years. 
"Over the years there have been a lot of conversations, a lot of explorations and events and kind of building up our base, and also having communication with the administration," Olagbegi said. "Most recently, and last year, we spent the entire year making a reinvestment proposal."
DivestBU has taken part in numerous protests on campus, including the worldwide Climate Strike where the organization invited students to march with them to the Boston City Hall.
In 2017, BU released a Climate Action Plan to cut greenhouse gas emissions and increase weather-resilient infrastructure university-wide. Though Olagbegi says the club is happy with BU's plan, she said the group is far from finished urging the school to fully divest, which they have not yet done.
"As an institution," Olagbegi said, "we have the power to make our institutions not do these things and have the biggest impact."
Olivia Williams, a senior in CAS and the secretary and co-founder of the Climate Advocacy, Research and Education club, founded in 2018, was created to ensure that everyone — students, Boston citizens, and others — have a source of education about climate change.
CARE, now starting its second year on campus, has produced a video in which members interviewed environment professors, and a "zine" — short for "magazine" — that includes creative writing and art focused on climate change activism. Williams said the club prides itself on recruiting members with diverse skill sets.
"As just a small group of students, our main focus is educational materials," Williams said. "Reaching out to people who maybe have questions, but don't know where to ask or even don't know where to look for answers.
Williams said she wants to focus on creating media that can get the message about rapid climate change out to different kinds of people — and fast.
"In terms of the education and advocacy, we want to be training our members to understand climate change, to advocate to better communicators," Williams said. "And then we also want to be creating content that will reach people outside the organization."
The BU Energy Club, which originally began as a graduate student organization but has since opened to undergraduates and BU alumni, is a more career-oriented club, focused on the energy industry from a business and economic perspective.
Cyril Vallet, a MBA student in Questrom School of Business Administration and current president of the club, said she believes it is important for students to understand that climate change is an "interdisciplinary problem."
"So students should understand that whatever career they want to have," Vallet said, "it's important for them to understand climate change, and understand how their work contributes to either helping or hurting that issue."
Now more than 10 years old, Vallet said the club aims to connect people from multidisciplinary backgrounds to work toward energy sustainability, said that the club has gravitated toward renewable energy since its founding.
With young people around the world gathering in droves last month to take a stand against climate change, including members of DivestBU, Olagbegi said she thinks student voices can make a change. 
"Students can raise their voices and make their concerns, and what they want at BU, heard," Olagbegi said. "The most influential thing a student can do is say what they want."
In honor of National Newspaper Week, we're asking you to make a donation to The Daily Free Press. The financial support of our community is important now more than ever to help us continue writing stories like this for readers like you. Please chip in whatever you can. Read more and make a donation here. Thank you.