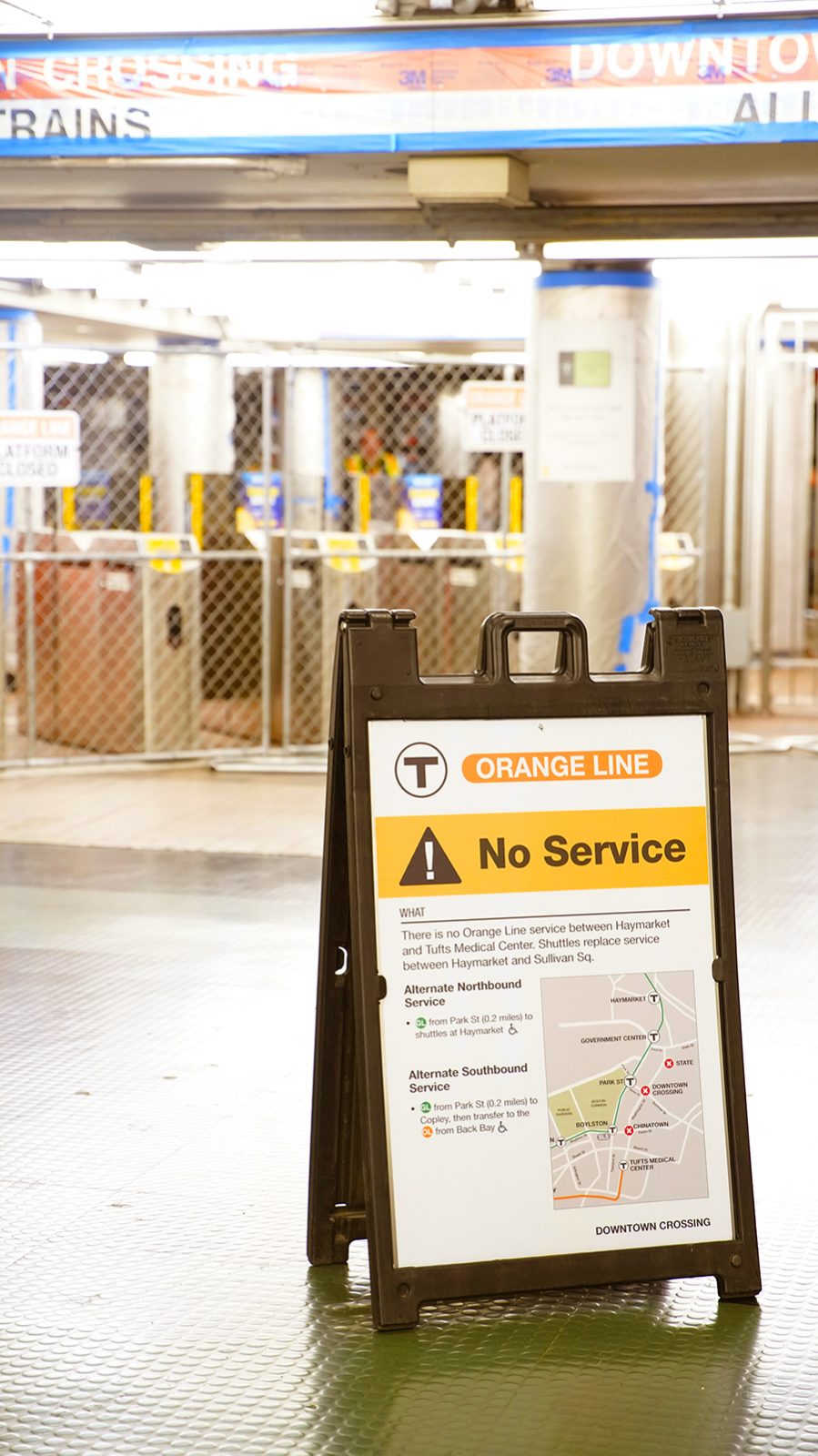 The MBTA is shutting down Orange Line service between Tufts Medical Center and Sullivan Square for the next five weekends to accelerate repairs to the system's downtown stations. 
To avoid the closures, passengers can get off the Orange Line at Back Bay station and walk to nearby Copley station, where they can get on the Green Line to travel north. Passengers can then switch to shuttle buses that go to Sullivan Square, where Orange Line service resumes.
Orange Line fares will be waived during the partial closures, which start at 8:45 p.m on Fridays and last all day Saturdays and Sundays through Nov. 10. For passengers with disabilities, the T is running accessible vans between the Orange Line stations that are closed. 
The repair work is part of the MBTA's recently-announced Capital Acceleration Plan, which officials say will speed up improvements to the Orange, Red and Green lines. For instance, the T says partial Orange Line closures will allow work to be done 11 months earlier than planned.
Planned Orange Line repairs include replacing 30-year-old tracks, improving signage and making other fixes at Downtown Crossing, Haymarket and State Street stations. 
MBTA General Manager Steve Poftak said in a press release while the shutdowns may cause delays, they are necessary to make the Orange Line more reliable. 
"As part of our efforts to build a better T, these weekend shutdowns will allow us to deliver improvements in safety, service, and the customer experience sooner than originally planned," Poftak said. "While we acknowledge major diversions in regular service can be inconvenient, these shutdowns are needed to execute an investment plan of this size and expedite completion of this work." 
Josh Ostroff, the partnerships director at a transportation advocacy group called Transportation for Massachusetts, said the repairs on the Orange Line are necessary and he thinks that partial closures may be the best way of going about them. 
"I think as part of the overall plan to rebuild our public transit system, they're essential," Ostroff said of the repairs. "It's a great idea, it's long overdue. The Orange Line weekend shutdown is just one way to achieve what needs to be done — they could take longer to do it — but closing the entire line for a series of weekends makes sure that it happens more quickly and safely." 
Still, the shutdowns will be a "substantial inconvenience" to Orange Line riders, Ostroff said, which is why the agency should do everything it can to speed up replacement services.
"I think it's important that the MBTA pay close attention to the customer experience during these initial weekends of service closures and learn from their experience," Ostroff said.  
Bob Hartwell, 66, of Dorchester, said he thinks it's important the T makes improvements to the Orange Line, even if that means disruptions to service.
"The work needs to be done," Hartwell said. "I mean they've got to shut it down, no ands, ifs or buts." 
In honor of National Newspaper Week, we're asking you to make a donation to The Daily Free Press. The financial support of our community is important now more than ever to help us continue writing stories like this for readers like you. Please chip in whatever you can. Read more and make a donation here. Thank you.