Bostonians with a hankering for the fried chicken that took the internet by storm last month will no longer find it in Kenmore Square.
The Popeyes Louisiana Kitchen franchise on Brookline Avenue, just steps away from Fenway Park, shut down at the end of September according to Boston Magazine.
Twitter user @convivitude was the first to share the news, posting a photo of the restaurant's door with a "Closed" sign on Sept. 28. The next day, Twitter user @ralvarez617 wrote the restaurant "looked completely cleaned out inside."
Popeye's in #kenmore closed abruptly. Where will the #RedSox get their fried chicken now? @universalhub @hiddenboston pic.twitter.com/IB1Ws9CPYn

— Jeremy (@convivitude) September 28, 2019
Popeyes management has not confirmed the closing, Boston Magazine reported.
Laura Jean Miller, a program coordinator at the Fenway Community Center, said the loss of the Kenmore Popeyes will affect its surrounding neighborhood.
"I think that any local businesses, we always want to keep them going and providing services for local people," Miller said. "And also, of course, local jobs."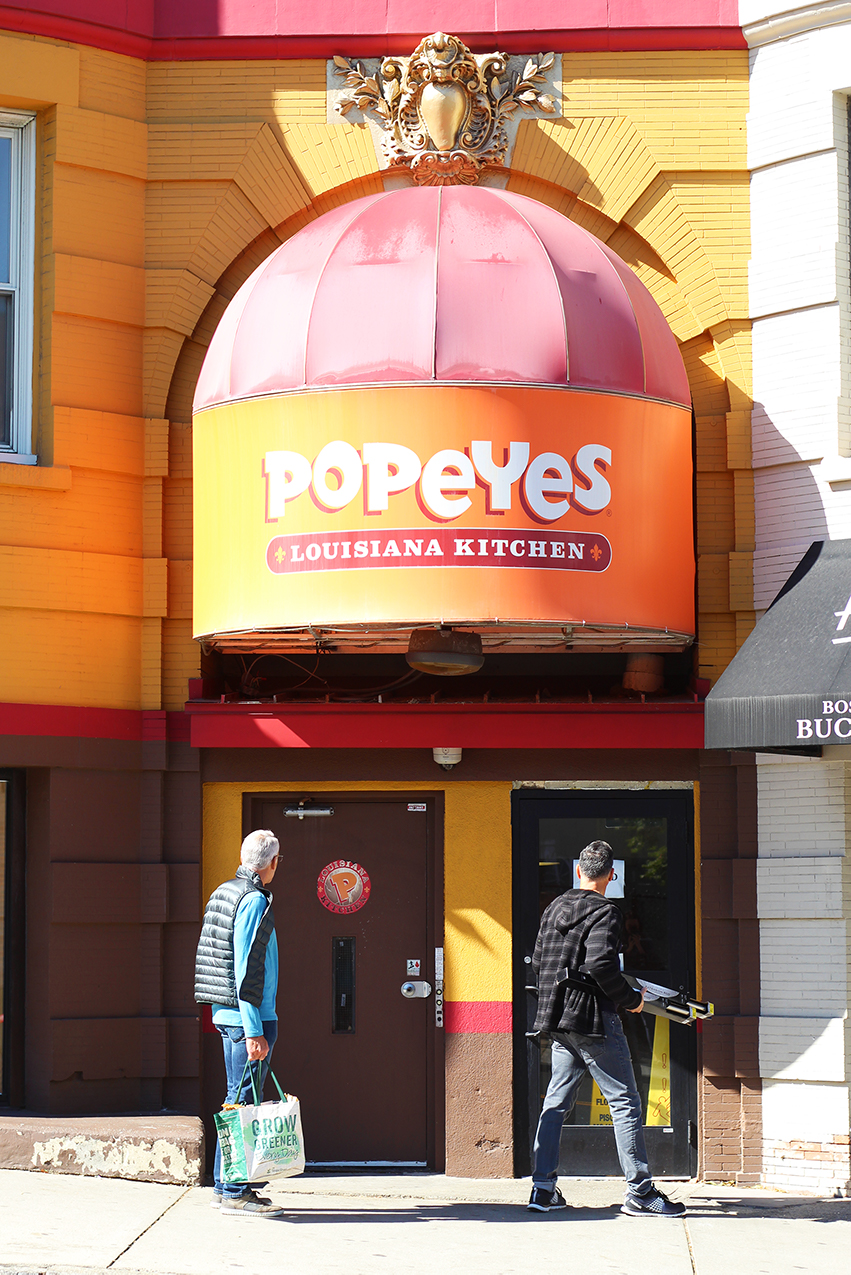 The Kenmore Popeyes became etched into Red Sox lore in 2011 when, according to Boston Magazine, an article in The Boston Globe reported three of the team's starting pitchers were snacking on the restaurant's fried chicken in the clubhouse during games.
Some fans were quick to blame the Kenmore Popeyes for the team's poor form that season, according to Boston Magazine. Starting in September, the Sox blew a nine-game division lead and closed out the season with a 7-20 record, according to Boston Magazine.
In a follow-up story in the Globe that fall, then-owner of the Kenmore Popeyes, Jon Stilianos, confirmed the three Red Sox pitchers in question — Josh Beckett, John Lackey and Jon Lester — were regular customers at his restaurant.
"I was surprised to hear they were eating during games,'' Stilianos told the Globe. "These [Sox] guys would get two or three pieces and a couple of sides. They really liked the corn on the cob.''
Then at the start of the 2012 season, the Kenmore Popeyes made good on their newfound fame. The restaurant hung up a banner above the door that read, "4 out of 5 Pitchers Prefer Our Chicken BEST," according to Boston Magazine.
Miller said she's unaware of any plans to replace the Popeyes location, though added that a lot of restaurants have opened in Fenway in the past year.
One addition to the area's food scene this summer was Time Out Market Boston, a food hall with 15 local vendors ranging from coffee and donuts to burgers and seafood.
Jordan Rosales, 21, of Jamaica Plain said if a new restaurant was to move in where the Popeyes was, she would want it to be something healthier.
"[I would like] maybe a non-meat option, because I feel like Popeyes probably isn't the best option," Rosales said.
Brynn Vessey, 22, of Brighton, said while she's never been to Popeyes because she is a vegetarian and has celiac disease, she'd like to see a locally-owned restaurant fill the space.
"If we're going to lose Popeyes, oh well," Vessey said. "I want to have a smoothie bowl place. I work in this neighborhood. So I would like to have a smoothie bowl place or somewhere that caters to people with severe food allergies."
Kristen Lamb, a sophomore in the College of Arts and Sciences, said the location's proximity to Fenway Park makes it an ideal spot for another restaurant.
"I honestly thought the Popeyes looked always kind of dirty and run-down there when I walked by," Lamb said. "I guess it's a good location to have a restaurant because there's a lot of foot traffic from the Red Sox games."
Isabella Taboada, a freshman in CAS, said the Kenmore Popeyes was popular among students.
"I heard people talk about it a lot," Taboada said. "I'm surprised [it closed], actually."
In honor of National Newspaper Week, we're asking you to make a donation to The Daily Free Press. The financial support of our community is important now more than ever to help us continue writing stories like this for readers like you. Please chip in whatever you can. Read more and make a donation here. Thank you.