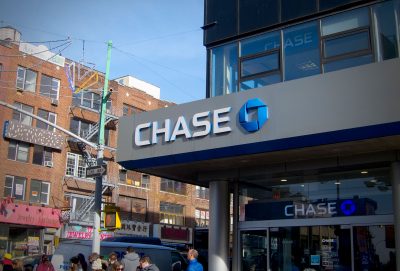 Chase Bank members rejoice — a new branch of the bank is opening in Boston University's West Campus next week.
The new branch, located at 880 Commonwealth Ave. between Chipotle and Otto Pizza, has had it's opening delayed from the original date, the branch manager for the new location Sandy Li said. The branch is now targeted to open next week, possibly Tuesday, Oct. 15.
Despite the delay, Li said she is excited to open the new branch and assist the surrounding communities with their financial needs.
"This would be a great location just because it's in the heart of and in the vicinity of university campus," Li said. "We're so excited to be working with the college students, not just students in general, but the neighborhood. This includes Cambridge, this also includes Brookline and as well as the Boston University community."
Li said she hopes the bank can provide students with financial education and help them with issues such as paying off student debt faster or purchasing their first car.
"We feel that this would be a great opportunity to help our current community, whether it is helping the BU students with being financially fit, or hosting [events], Li said. "We have this thing called Chase Chats, it's a little workshop that we host in the branch or maybe even on campus that I look forward to, where we can educate students on how to be financially fit."
This new branch is one of potentially 90 new branches that are part of the major branch expansion in 2019, according to a Chase press release. Earlier this year, the bank announced its plan to expand into the top nine U.S. markets as well as grow their network into Greater Washington, Philadelphia and Boston.
Currently there are two physical banks on campus — a Bank of America and Citizens Bank — both located in the George Sherman Union in Central Campus.
Taannyaa Bhatia, a sophomore in the College of Arts and Sciences, said she thinks the location of the new bank branch is great.
"I'm glad that it opened in West Campus," Bhatia said, "because the GSU is easier to access for people that live on this side of campus, [but] it's far for the West Campus students, so I think it's a great idea."
Julie de Lange, a sophomore in CAS, said that while she is not a Chase Bank user, some of her friends who are will find the new branch beneficial.
"I mean, I know that some of my friends have Chase and I feel like they're like 'If I have a problem I have nowhere to go, because there's no Chase bank,'" de Lange said. "So I guess it's good that they have one now. Not everyone uses Bank of America."
Lucan Laurence, a freshman in CAS, is an international student from the U.K. He said it's nice that there are different options for banking on campus.
"I didn't actually have to make an American bank account," Laurence said, "but I mean I will at some point, so having more choice is definitely helpful."
In honor of National Newspaper Week, we're asking you to make a donation to The Daily Free Press. The financial support of our community is important now more than ever to help us continue writing stories like this for readers like you. Please chip in whatever you can. Read more and make a donation here. Thank you.