Sublime, famous for the eternally catchy "Santeria," reformed in 2009 with two of its original members as Sublime With Rome. Now down to one original member, Sublime With Rome is dedicated to carrying the spirit of the original band.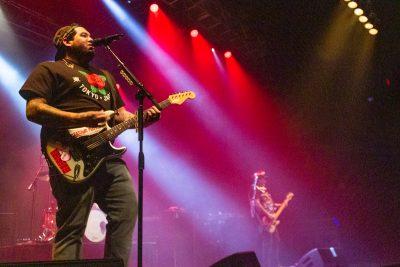 On Sunday, in the green room of the House of Blues, the majority of Sublime With Rome took shots of Jack Daniels to prepare for the night ahead. Drummer Carlos Verdugo sat back on the couch as frontman and guitarist Rome Ramirez, bassist Eric Wilson and tour manager Eric Freedman shared drinks. 
"Time flies," Ramirez said. "It doesn't feel like we've been doing it for ten years, that's for sure. But, you know, every year we become tighter and tighter and I think our albums get better and better."
Wilson, while lying on his back on the sofa, describe  the creative process of making Sublime With Rome's latest album, "Blessings," as one of continued growth. 
"We've grown through our albums," Wilson said. "We have a few songs that we like on the other albums, but for the most part, the new album, the whole thing's dope."
The members of the original Sublime were frontman Bradley Nowell, bassist Eric Wilson and drummer Bud Gaugh. After Nowell's death in 1996 and the subsequent release of Sublime's self-titled album, the original band went on hiatus. However, they reformed in 2009 with Ramirez at the helm. After restarting the band under a new name, Sublime With Rome, Gaugh left in 2011. Verdugo joined as the band's drummer in 2017.
Wilson described the "Blessing" recording sessions as a newfound start for the group, which is particularly relevant due to it being Verdugo's first project with the band.
"It's basically like starting a whole new band," Wilson said. 
In regards to time spent on the road, Ramirez said that he prefers touring.
"We tour so much, that it almost becomes opposite, like, this is normal," Ramirez said. " For me, it's really weird because it's easier for me to be able to just 'be this and do this,' than it is for me to go back home."
Reggae and rock band Tropidelic opened Sunday's show and while their main gimmick was having one of their performers paint a picture while the band performed, it's their brass players that stole the show with their hilarious, good-natured dancing skills. 
Then came rock band The Expendables. They began with a calmer set comprised of their own music, and ended with crowd-pleasing covers of Luniz' "I Got 5 On It," Dr. Dre's "Nuthin' But A G Thang," and Afroman's "Because I Got High."
Enter Sublime With Rome, continually dominating the show with their veteran, yet amicable stage presence, all under a foggy haze that could either be a result of stage lighting or because Wilson's joint fogged up the venue. They started the show with two songs from the original Sublime's discography "Smoke 2 Joints," and "Wrong Way." This was met with uproar from the crowd.
Ramirez is a worthy replacement to Nowell, both in delivery and energy. Sublime With Rome seemed comfortable in playing in the grimy atmosphere of the House of Blues. This was particularly apparent in their darker songs, such as "Date Rape" and "Doin' Time." 
Sublime With Rome ended the show with a three song encore, consisting of "What I Got,"— the first song the original Sublime released after Nowell's death. Then came "Wicked Heart" from Sublime With Rome's, off of "Blessings" and "Santeria." 
"Santeria" was the undisputed highlight of the concert. This was made apparent through Ramirez's blissful vocal delivery and the audience's energy as they sang the famous lyrics, "What I really want to know, ah baby / What I really want to say is I've got mine." 
Even though the songs from "Blessings" were lighter in tone and no match for Sublime's original catalogue, they were played with such exuberance and charm that one could forgive any shortcomings.
Sublime With Rome is a band that knows how to amaze a crowd, whether they're performing older songs from their spiritual predecessor, or their own catalogue. After all these years, they still know how to craft a song that can please even the most curmudgeon of their fanbase.
In honor of National Newspaper Week, we're asking you to make a donation to The Daily Free Press. The financial support of our community is important now more than ever to help us continue writing stories like this for readers like you. Please chip in whatever you can. Read more and make a donation here. Thank you.