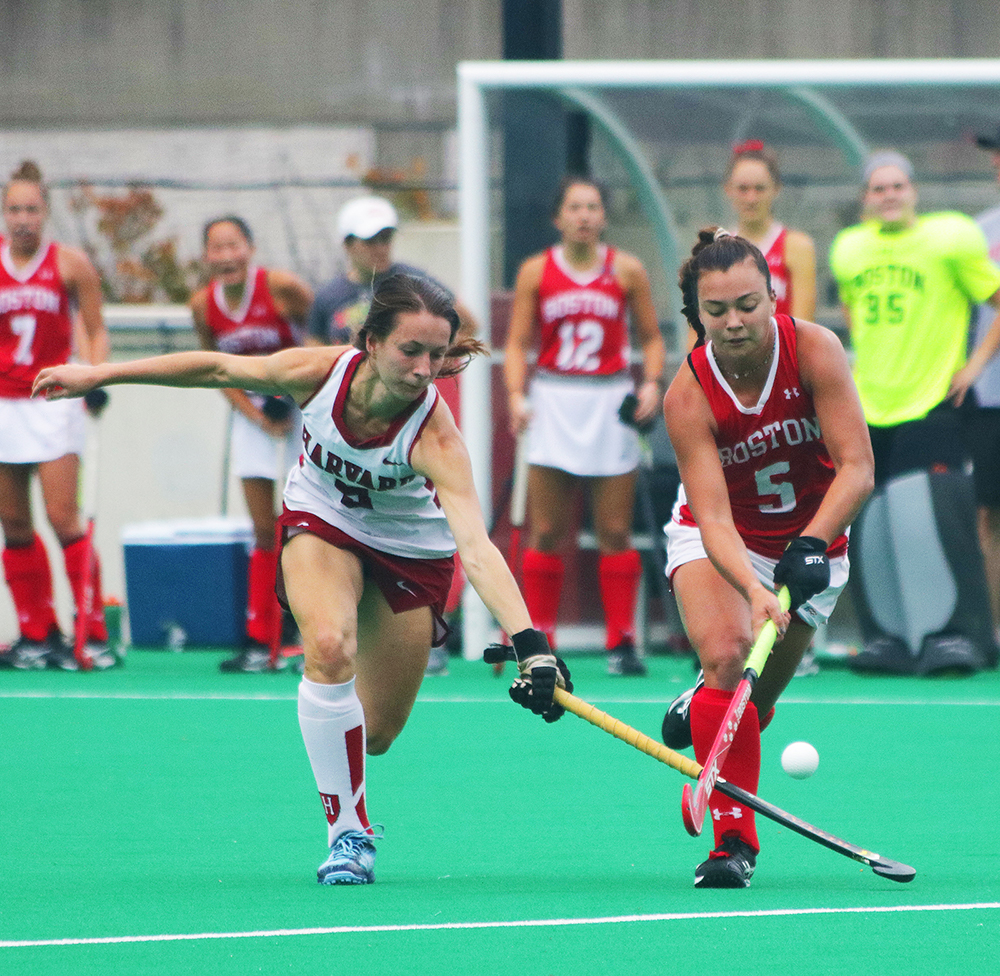 After dropping points in back-to-back heartbreakers against Lafayette University and University of Pennsylvania over the weekend, Boston University field hockey will be back in action Oct. 11 against Colgate (2-10, 0-3 PL)
Despite the Terrier's six game losing streak, head coach Sally Starr remains confident in her team's ability. 
"You would never know we're on a …  losing streak," Starr said, "We're a team with what we like to call a closed mindset. We're a young team and I think we recognize we're getting better."   
All six of the Terrier's defeats, except for a 4-0 loss against the University of Connecticut, were by a margin of a single goal. Starr said she has seen a lot of positives from her team in these games and the Terriers are looking forward to having a chance to get a win over Colgate. 
"It's a big conference game," Starr said. "It's an opportunity to get a win in the conference, so we're really looking forward to getting out to Colgate and competing successfully out there."
Despite the team's mindset and confidence, they have struggled offensively and Starr recognizes they must improve in order to start winning some of these close games. 
"We're going to focus a lot on goal scoring this week," Starr said, "Being better in our attacking third, being more efficient in our attacking third."
With a record of 2-10, Colgate has had a very tough season thus far and are currently on an eight-game losing streak, with the most recent four losses all being by a margin of at least two goals.  
With Colgate reeling, the Terriers will have an excellent chance to secure their first conference win and snap their six-game losing streak. 
Boston College at Nickerson Field, Boston
Sunday, Oct. 13
Shortly after facing Colgate the Terrier's will go on to face rival BC (6-5, 2-1 ACC) on Oct. 13.  
The Eagles, ranked 14th in the country by the NCAA Field Hockey RPI poll, will be a much tougher opponent than Colgate. BC is led by freshman Margo Carlin who averages 1.11 goals per game, good for 6th best in the country. 
Despite BC's strength, Starr and the team are totally focused on the game against Colgate. 
"100 percent of our focus is on Colgate," Starr said. "We're not even thinking about BC at this time."
In honor of National Newspaper Week, we're asking you to make a donation to The Daily Free Press. The financial support of our community is important now more than ever to help us continue writing stories like this for readers like you. Please chip in whatever you can. Read more and make a donation here. Thank you.