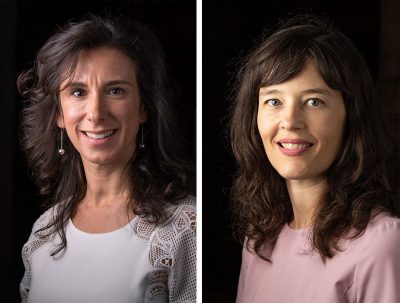 When two New York Times reporters pushed the button to publish the first investigate story that exposed a Hollywood producer's sexual assault allegations, they were unsure what would happen next. 
Fast forward two years, and film producer Harvey Weinstein was indicted, the global #MeToo movement was ignited and the two Pulitzer-prize winning reporters published a book detailing their experience — "She Said: Breaking the Sexual Harassment Story That Helped Ignite a Movement." 
Journalists Jodi Kantor and Megan Twohey joined actress Ashley Judd, one of the first actresses to accuse Weistein of sexual harassment, at the First Parish Church in Cambridge Monday for a live conversation in which they talked about their book and the process of uncovering the Weinstein story.
"For months we had said we're either going to land this story or we're going to blow it," Kantor said during the discussion, "and major actresses are either going to go on the record, or they're not."
Kantor recounted one particular instance where Weinstein stormed into The New York Times' building and confronted her and Twohey the day before the story was set to be published. Kantor said Weinsten proceeded to attempt to discredit Judd's account by claiming that the actress could not be trusted because she had received psychological treatment in the past.
"Megan relished the chance to face off with him," Kantor added. "Everything they had we already knew about." 
Twohey said she and Kantor were inspired to write their book after witnessing the the turmoil surrounding the allegations against Weinstein, Brett Kavanaugh and President Donald Trump, all of whom were accused of sexual assault.
"We really felt like these were three significant stories and we were so grateful to be able to bring readers behind the scenes with us and to have that front row seat that we did," Twohey said. 
Judd said she initially feared she would be sued and lose her acting career if she went public with her allegations against Weinstein. But after Kantor spoke to Judd about the potential good she could do by telling her story to the world, Judd said she went on a run, prayed and consulted with friends and family before deciding to publicly accuse Weinstein of sexual harassment.
"I really like to do the harder thing in my life," Judd said. "I think that that's something that I require of myself and it's something that the God of my understanding requires of me." 
However, Kantor said legal settlements between victims and Weinstein proved to be a major hurdle while uncovering the story, as many women were legally forbidden to speak about their allegations.
"These settlements are no joke," Kantor said, "and the women who had them faced and to some degree still face legal and financial penalties for talking to us." 
Twohey said when trying to convince victims to speak with her, she would emphasize how important it was for these victims to go public with their allegations
"We can't change what's happened to you but if you work with us and we're able to publish the truth," Twohey said, "we may be able to protect other people and we may be able to put this private pain to some sort of constructive use."
Following the discussion, audience members lined the sanctuary for customized signed copies of the book. 
38-year-old Chris Falman of East Boston said he is a regular attendee of Harvard Bookstore events and decided to attend this talk after learning that Judd would be present.
"All the Harvey Weinstein stuff just disgusts me," Falman said. "I'm just on the side of everyone, you know, believing the stories and and just having everyone be treated fairly and equally."
While the audience was primarily female, 57-year-old Geoffrey Underwood of Cambridge said he did not feel uncomfortable being in the minority. 
"I felt like these were really true people speaking the truth," Underwood said. "I'm hopeful that norms in the legal world and political world will allow victims to be able to tell their story with some sort of protection." 
Jessica Perillo, 27, of Allston, said as a sexual assault survivor, Kantor and Twohey's work resonated with her and that she has been following the story ever since. 
"They emphasized a lot how everyone should be believed until proven otherwise," Perillo said, "and I feel like that's a good message for anyone to hear."
In honor of National Newspaper Week, we're asking you to make a donation to The Daily Free Press. The financial support of our community is important now more than ever to help us continue writing stories like this for readers like you. Please chip in whatever you can. Read more and make a donation here. Thank you.