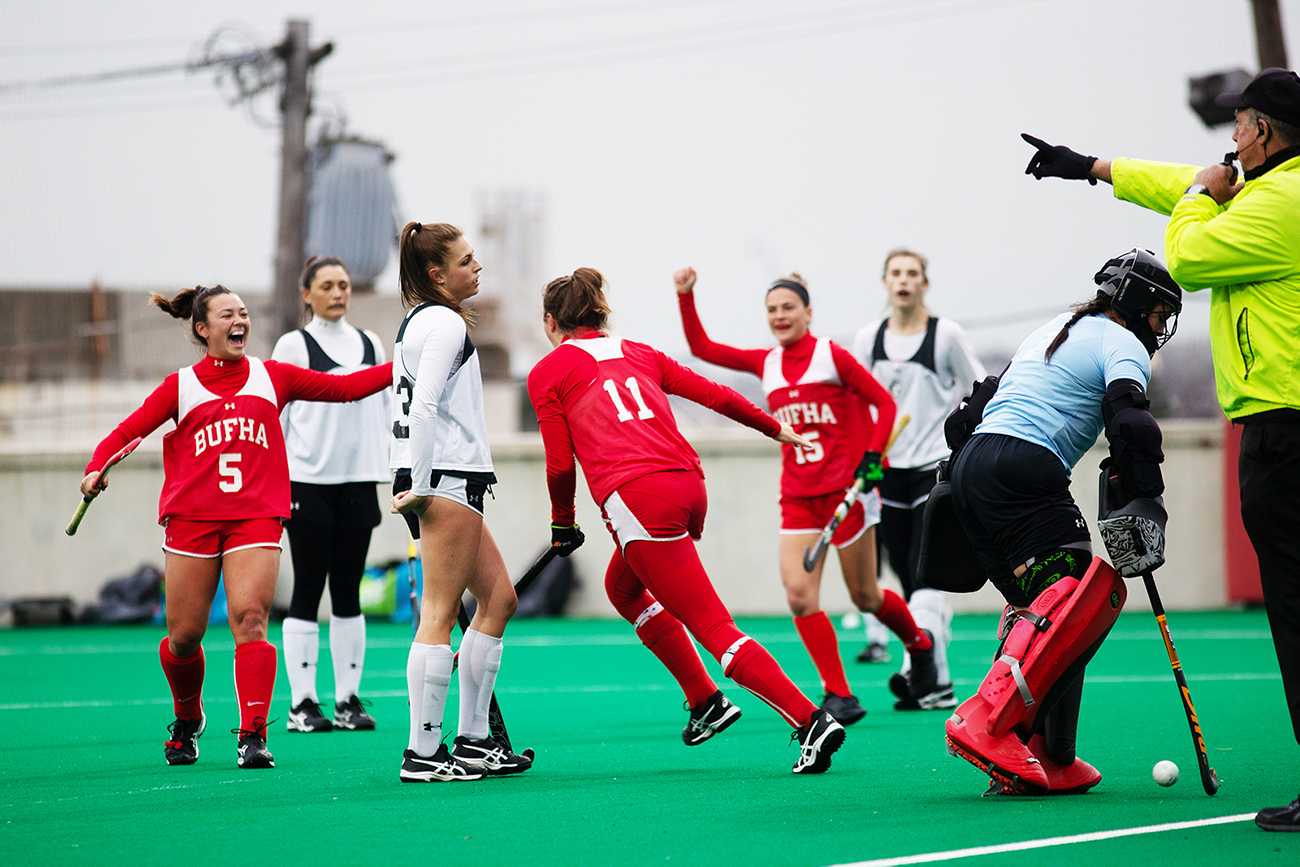 It's not common for a defending conference champion and team that started the season ranked in the national top 25 to go on a six-game losing streak, but sports are never predictable. Things don't always go the way they have in the past. Upsets happen at the most unpredictable times.
The last three and a half weeks have not been kind to the Boston University field hockey team. Since Sept. 13 the Terriers have lost six straight games, two of which were in the Patriot League.
Also during that stretch they lost their first conference home game since 2013 and scored one goal or less four times. Add that all up and BU has a record of 3-7, 0-2 PL.
BU head coach Sally Starr said she has "never been in a losing streak this long."
One dynamic to the losing streak that can give the Terriers some hope is the margin of defeat during this six game losing streak. In five of the six games BU has lost by just one goal. That is very telling because it means the Terriers are not getting blown out. They are in these games and if some bounces went their way, they would not be looking at six straight in the loss category.
Despite the slump Starr said "team energy and attitude is great and working hard at what needs to be improved."
The one loss that was by more than one goal was a 4-0 loss to The University of Connecticut, who is a top five team in the country. BU played good hockey in the first and fourth quarter but the firepower of the Huskies was too much in the middle quarters, scoring twice in each middle frame.
But when a closer look is taken at the five games, BU lost by just one goal, some bright sports can be found and there are instances where the Terriers had the game in hand but gave it away. Sometimes they've even outplayed the competition, but at the end of the day the scoreboard is the only thing that matters.
The most heartbreaking loss came in the second game of this stretch, a 4-3 loss to Columbia University in overtime on Sept. 14. BU fell behind 2-1 but chipped away to get right back in the game. Freshman Ellie McIntyre tied it up at two in the third quarter. Then, with just under seven minutes left in the fourth quarter junior Maggie New punched in a rebound to give the Terriers a lead.
BU went into prevent defense in hopes of being able to hang onto the lead for the final seven minutes. They fell short in that effort when Columbia tied it at three with 54 seconds remaining in regulation.
It was like all the air was taken out of the Terriers' bubble at that moment and then just over four minutes into the overtime session BU gave up its fourth goal of the day to take a devastating 4-3 loss.
BU had the game wrapped up and they dominated the opposition. The Terriers had 11 shots on goal while Columbia had just five. So, four of five shots on goal against BU went into the back of the net. That is an 80 percent mark, something so rare to happen in field hockey. Luck simply wasn't on the Terriers side. They dominated in shots and played stout defense but it wasn't enough.
Starr is looking for everyone to step up their game.
"Everyone on the team regardless of class or playing time needs to find ways to make proactive contributions every day at practice and in games," Starr said.
Another game that had a lot of historical significance was the loss to the Bucknell University Bison on Sept. 21. It was the first conference loss for the Terriers at home since 2013 which also came to the Bison. The streak of 17 games won in league play at New Balance Field was broken.
It has been a season of flukes and unusual things thus far for BU. They will look to get back in the win column on Friday when they battle Colgate University in Hamilton, New York. It will be an opportunity for the Terriers to get their first conference win and most importantly get their first win overall since Sept. 8.
"We still very much believe we can compete successfully for the Patriot League Championship," Starr said. "Colgate is a big game and opportunity to move positively in that direction."
In honor of National Newspaper Week, we're asking you to make a donation to The Daily Free Press. The financial support of our community is important now more than ever to help us continue writing stories like this for readers like you. Please chip in whatever you can. Read more and make a donation here. Thank you.