The start of a new semester on Commonwealth Avenue is filled with opportunities for clubs to bolster their numbers and find new members. Stands are set up on Nickerson Field each year at Splash with the promise of "free stuff" and sign up sheets to reach out to a whole host of new members.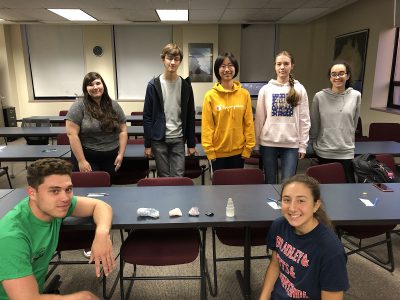 At their first meeting this semester, the Boston University Geological Society had a total of five people in attendance, Dena Ciampa, a sophomore in the College of General Studies and the club's vice president wrote in an email. 
The club's current executive board is seeking to reorient BUGS' focus and raise awareness among students on campus, Ciampa said.
"We're sort of in the rebuilding process right now," Ciampa said. 
Lawford Anderson, a professor of earth science in the College of Arts and Sciences, has been the faculty advisor for BUGS since he came to BU in 2011. Anderson said he has noticed the lower turnout in recent years.
"Last year they ran weekly meetings and I attended almost all of them,"Anderson wrote in an email. "The turnout was often low. Even my dog, Max, recently passed away, would come." 
Samarah Uriarte, a sophomore in the College of Engineering and the current president of BUGS, was a freshman looking for clubs to join just last year. 
"Before I was the president I was avid about geology and I collected rocks," Uriarte said, "I just really wanted to get involved on campus so I found the club, and last year when I was a freshman I tried my best to make the meetings, and when there were positions available I just made sure to fill them out."
BUGS has approximately been around since the 1950s, Anderson wrote. Older alumni who were once a part of the group have made up some of the club's attendees every once in a while, Anderson wrote.  
In recent years newer clubs such as BU's Environmental Student Organization and the BU Emerald Review, both of which are integrated into BU's Earth and Environmental Department, have drawn attention away from BUGS, Ciampa wrote. 
"We are more of a casual club," Ciampa wrote. "but in general we welcome anyone who has an interest in the Earth system and nature as a whole.  You do not need to be a Geology major to join."
The club meets every other Thursday at 6:30 p.m. in the Stone Science Building, where Ciampa said there is a collection of rocks and minerals on the first floor. 
The group talks about both geological and environmental news, and then focus on a topic to discuss for each meeting, Ciampa wrote. They choose their topics, including volcanoes and earth's water, based on an interest survey members fill out.
The eboard tries to make their discussions interactive by watching videos and ending each meeting with an opportunity for members to bring in rocks from their own collection or share a fun fact about rocks, Ciampa wrote.
The group is planning on having adventure walks, hiking excursions and integrating volunteer opportunities into their activities in order to make the club more than just a social club, Ciampa wrote. 
"We seem to have lost many members to other clubs that are more resume driven," Ciampa wrote. 
At its peak BUGS has had a following of at least 50 people, Anderson wrote. Today, the current e-board is committed to gaining new members to establish a solid base for the club and hopes more people will join in the coming semesters, Ciamba wrote. 
"If the club does not gain more members in the coming semesters, I guess it will just remain a small club with a few people," Ciamba wrote. 
On Thursday, Anderson will host a show and tell in his office for the club, where attendees will be viewing his collection of rocks, minerals and fossils. 
"I am sure they will find a new footing," Anderson wrote, " and I will always be there for them."
In honor of National Newspaper Week, we're asking you to make a donation to The Daily Free Press. The financial support of our community is important now more than ever to help us continue writing stories like this for readers like you. Please chip in whatever you can. Read more and make a donation here. Thank you.