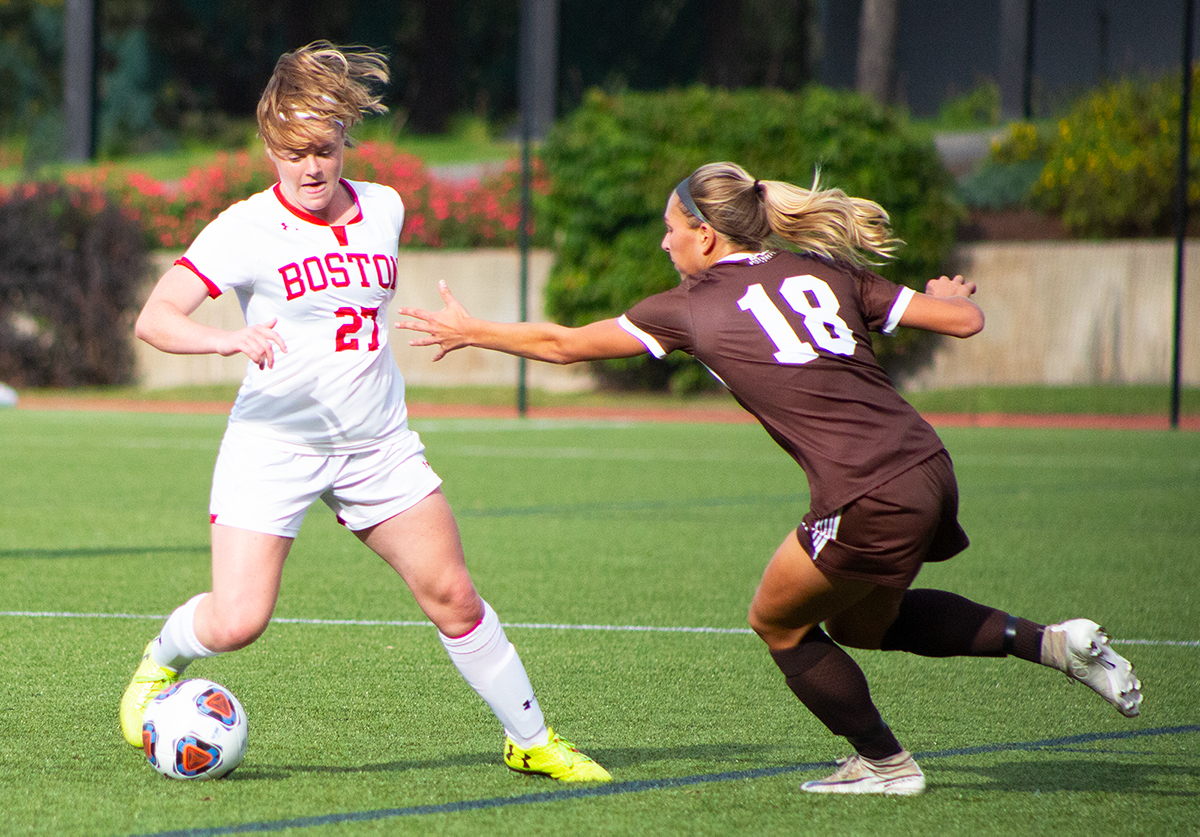 Sitting in a tie for third place in the Patriot League, Boston University women's soccer will travel to Bethlehem, PA to face Lehigh University Saturday afternoon.
BU (5-6-2, 2-1-1 Patriot League) is coming off of a 0-0 tie against the Loyola University of Maryland (5-5-2, 2-0-2 PL), where the Terriers managed to prevent Loyola from getting clean looks at the net, but the Terriers could not take advantage of the plentiful opportunities they had in front of the Greyhound net.
Coach Nancy Feldman said after the game that her team might not be a team that scores a lot of goals, but perfecting the rest of the team's skills will prove more important to collect wins.
"We may not be a team that scores a boatload of goals," Feldman said. "If it comes great, but I look at it like do we create enough chances and do we shut down the other team."
The Mountain Hawks (3-5-4, 1-2 PL) are an example of such a team that Feldman described. Opponents have put the clean sheets on Lehigh in two out of their three conference games this season. 
The lone Patriot League win for the Mountain Hawks this year was a 3-1 win over Bucknell University (4-9, 2-2 PL), a team that BU got shutout by two weeks ago. However, Lehigh hasn't let many games slip out of their control. They have three 0-0 ties against non-conference opponents, and two shutout wins by scores of 2-0 against the University of Maryland Baltimore College (1-10-2, 0-4 America East) and Saint Joseph's University (5-7-1, 2-3-0 Atlantic 10). 
Most recently, Lehigh came off of a 0-1 loss against the United States Naval Academy (11-1-1, 3-0-1 PL) where the Mids scored their lone goal in the 80th minute of regulation. Lehigh head coach Eric Lambinus believed that the defense was able to prevent Navy from getting a lot of clean looks throughout the game. In addition, Mountain Hawk goalkeeper Miranda Royds collected five saves on the game, something that Lambinus said helped the defense on an afternoon that fell short.
Royds has been putting in a lot of work in the net for Lehigh so far this season. Her 59 saves are good for second place in the Patriot League and her save percentage of .855 leads the Patriot League. She also has five total shutouts on the season. 
The stat sheets might not matter because these two teams have had closely fought matchups in past seasons.
They faced off for the Patriot League title last season, where the Terriers claimed the Patriot League crown in a 1-0 victory. Despite the loss, the Mountain Hawk defense held the Terriers back very well, until the game-deciding goal came in the 72nd minute from Anna Heilferty. Amanda Fay would collect the shutout. The scheduled regular-season matchup last season against Lehigh was also a 1-0 shutout victory, but that time it was Morgan Messner who kept the sheets clean against the Mountain Hawks. No matter what goalie plays, it will be a challenge for Lehigh to claim their revenge.
Feldman said she believes every team in the Patriot League poses a challenge in one way or another, and she believes her strong defensive team will be ready to fight against a similar-styled opponent.
"I haven't even looked at Lehigh yet because I was concentrating on today's game," Feldman said after the team's tie against Loyola University. "Every team is a challenge, there are great teams in the conference, we'll be ready to play Lehigh next Saturday."
In addition, Feldman said the team has a lot of young new players that are giving this team an edge over other Patriot League teams that she thinks is going unnoticed.
"We got a lot of young players playing on this team," Feldman said. "It's much more positive than I think everyone is giving us credit for to tell you the truth."