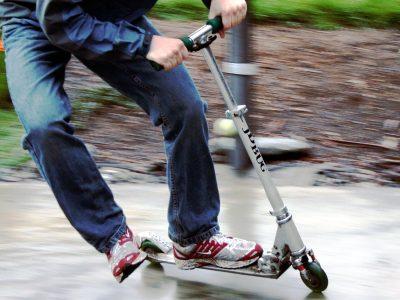 An increasing number of Terriers are choosing to scoot down Commonwealth Avenue and with that comes safety and theft concerns.
Electric scooter rental services like Bird and Lime arrived in Brookline last semester and have found their way onto campus, but there has also been an increase in personal, non-electric kick scooters among the student population.
Boston University Police Officer Peter Shin said scooter riders should keep safety practices in mind and use the same lanes as bikes, electric scooters and skateboards.
"People that are operating electric and non-electric scooters need to be cognizant of the area they're in." Shin said. "[Riders] should probably operate in the same rules as cars do, meaning that you come to a stop sign or red light, you need to stop there, need to signal turns, things like that." 
Shin said motorists will be expecting scooter riders to follow the rules of the road.
"If you're an intersection and you don't stop at the red light and cars [are] coming through that, it's definitely gonna be a problem for the person that's operating that scooter," Shin said.
BU Spokesperson Colin Riley said students need to be careful while riding kick scooters due to the constant amount of traffic along Commonwealth Ave.
"People need to exercise good judgment and be very careful operating anything that goes along Comm Ave," Riley said. "Because there's heavy pedestrian traffic, vehicular traffic and there's heavy public transit and bus traffic so personal safety should be the most important factor there."
Shin said he has noticed a higher number of scooter thefts this semester.
"As they start to become commonplace they're probably going to get stolen more," Shin said. 
BU has taken steps to deter bike theft — Parking and Transportation Services encourages, but does not require, bikers to register their bicycle with the university — but does not have the same policy for scooters.
The City of Boston has not met the scooter trend with new policies either, Shin said.
"Boston hasn't enacted any kind of regulations as far as the governance of scooters in their city," Shin said. "The city should probably come up with some type of regulation and some type of enforcement, whether it's, you have to wear a helmet, or you have to wear reflective clothing, things like those kinds of things."
BU doesn't have jurisdiction to regulate how scooters are used on roads and sidewalks, Shin said.
"We could enforce it within university property, but if you're operating the sidewalk, we wouldn't have any ability to do anything," Shin said. "So it's better that the city would actually be the one to actually have [regulations.]"
Riley said that BU wants to encourage students that are using scooters on sidewalks to do so with necessary caution.
"We want people to exercise good safety and we want them to exercise courtesy and common sense," Riley said. "The ultimate goal is making sure that everyone is safe."
Sophie Woan, a sophomore in the College of Communication, said she wanted more clarity on where kick scooters can be placed inside buildings so they do not become a nuisance.
"I just think [Boston University] should make it clear that if you're gonna have a non-electric scooter, don't bring it into places where it can get in people's way," Woan said. "I think it should be the same rules as a bike like you can't bring it inside. Leave it outside and lock it up."
Nick Lai, a junior in the College of Engineering, said he believes that non-electric scooter use is positive. He often sees two or more scooters every time he walks on Commonwealth Avenue, noting how they are an inexpensive and fast alternative way to get across campus.
"I like to see people using energy-efficient ways of traveling or transportation," Lai said.
Lauren Vitacco, a senior in CAS, said non-electric scooters are a convenient as well as an efficient way to move around campus.
"It's a good way to get around," Vitacco said. "It's similar to a skateboard, I wish that I was confident enough to do it down Comm Ave., I would just be too scared of cars hitting me." 
In honor of National Newspaper Week, we're asking you to make a donation to The Daily Free Press. The financial support of our community is important now more than ever to help us continue writing stories like this for readers like you. Please chip in whatever you can. Read more and make a donation here. Thank you.