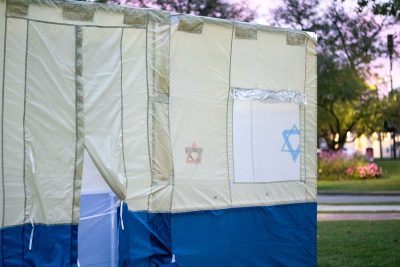 Boston University Hillel put up a sukkah, a traditional hut erected for the Jewish holiday of Sukkot, on the BU Beach Thursday.
It was moved from its usual spot in Granby Park across the street from Hillel due to construction of the Center for Computing and Data Sciences, according to Connor Dedrick, the president of the Hillel student board and junior in the Questrom School of Business.
"This is the first time it's been on the beach since I've been here," Dedrick wrote in a text.
The sukkah will be on the beach all through next week, Dedrick wrote.
"It was put up on Thursday and will be up through the end of Sukkot which ends on Sunday the 20th," Dedrick wrote.
For Jewish people who celebrate Sukkot, the sukkah represents the shelter their ancestors used after escaping from slavery in Egypt and traveling through the desert.
"Sukkot is the celebration of the harvest," Dedrick wrote, "so the sukkah was originally a temporary shelter that farmers would live in so they wouldn't have to go all the way back to their home."
In honor of National Newspaper Week, we're asking you to make a donation to The Daily Free Press. The financial support of our community is important now more than ever to help us continue writing stories like this for readers like you. Please chip in whatever you can. Read more and make a donation here. Thank you.