Superstar Post Malone, coming off of his latest album "Hollywood's Bleeding," stopped by TD Garden Tuesday and Wednesday night to give Boston some performances to remember.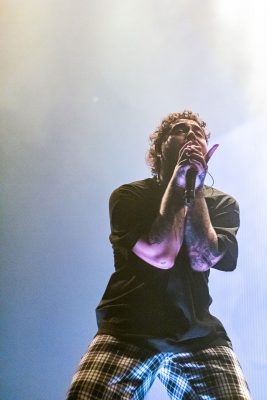 As people from all backgrounds filled the venue, along with the smell of marijuana and vape juice, Malone kicked off the show with "Hollywood's Bleeding," the eponymous song off of his latest album — with pyrotechnics permeating the Garden and accentuating his performance.
"Better Now" continued the fireworks as Malone lambasted his former lover for breaking his heart. The song was an undeniable crowd-pleaser, with everybody singing along as loud as they could, louder than they had for other songs throughout the show. 
His performance of the song "Stay" was the only time during the show where the spectacle was minimized. It was the only song of Post Malone's set without a backing instrumental. 
During his performance of "White Iverson" — the song that launched his career — white lights shone upon the audience, as if to thank his fans for supporting him.
As the audience collectively shined their camera lights, without all the flashiness of the pyrotechnics, an emotional, expressive singer with a vibrato that could reach the hearts of millions, both in a figurative sense and a literal sense.
Enter "Sunflower," where Malone brought out Swae Lee, one of the two openers for the show,  and the two harmonized and ad-libbed throughout their verses. Lee's voice was autotuned, while Malone used a standard mic.
This transitioned quickly into "Rockstar," with the triumphant return of the pyrotechnics. Midway through Malone's performance, he smashed his guitar on stage as the cameras zoomed in on his face. He was sweating and  furrowing his brows, fully embracing his rockstar status. After the song ended, Post Malone began to address the crowd with a sly shrug, grin and wink. 
"Each f–king one of y'all are rockstars," Malone said in between songs. "And ain't no one can tell you s–t."
Malone ended the show with his hit song "Congratulations," which hit diamond status in the U.S. at the start of this year. The song served as a victory lap for the entire concert. Fireworks comparable to a small town's Fourth of July celebration lit up the Garden as Malone crooned into his microphone.
By the end of the show, Malone was at a loss for words. He finally said how grateful he was and how much he values each of his fans. He waved goodbye to his adoring fans as he exited the stage. 
In honor of National Newspaper Week, we're asking you to make a donation to The Daily Free Press. The financial support of our community is important now more than ever to help us continue writing stories like this for readers like you. Please chip in whatever you can. Read more and make a donation here. Thank you.