Mike Posner was bitten by a rattlesnake in August. A month later, he released a 16-track mixtape called "Keep Going." Clearly, Posner follows his own advice.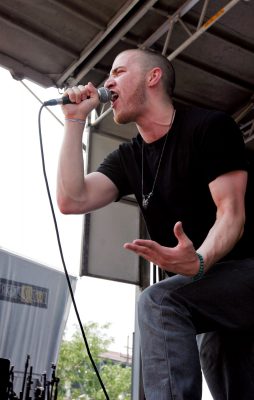 Posner's journey began in April, when he first embarked on a mission to walk more than 2,500 miles across America. His latest album is an encapsulation of this journey and his self-described resilience. 
The first track, "Introduction (Mike Posner/Keep Going)," begins with Posner addressing the listener directly. It gives an overview of the project and Posner explains that when the album drops he will be in the middle of the "hardest journey of [his] life," referring to his walk across the country.  
In the first track Posner mentions that he created "Keep Going" to remind himself who he is when he faces challenges and he said he hopes listeners get the same strength from listening to the album. 
Posner is being forthright in announcing what he is trying to accomplish with this album — he has effectively revealed to the public his thesis statement.
Posner even gives instructions on how to listen.
He specifies in the opening track that the project should be heard from beginning to end with no interruptions or distractions. Posner even went so far as to say that if the listener doesn't have 52 minutes to listen to the whole thing, they should save it for another time.
Some songs on the album flow into each other, so Posner's instructions make sense, as listening to the album out of order would disturb the overall musical experience. But narratively speaking, putting the album on shuffle wouldn't make a difference — this is mostly due to the fact that there's really no narrative to be found. 
Based on the first track, it sounded like the album would be aimed at inspiring others, but most of the songs are little more than Posner praising his personal accomplishments. 
He flaunts his Duke University education twice within the first two songs, once in "Come Home"and again in "Noah's Ark" where he informs the audience of his 3.5 GPA.
"Come Home," the second track, starts off with backing vocals and slowly adds piano, a layer of synth, an electronic drum beat and a trumpet. The layering effect is nice, as it allows the listener to be eased into the album. 
The sound of "Noah's Ark," the third track, is a mix of gospel, hip hop and synthpop. It's a combination that blends Posner's more modern sound with the biblical-themes that inspire the song's title. 
Throughout the album, Posner includes "Sage Wisdom" from featured artists. While the tracks do contain some wisdom, they're mostly unabashed praise for Posner from select guests. Posner was clearly going for inspirational, but it just came across as self-centered and borderline pretentious at times. 
But the album does include some interesting musical moments. 
"Prince Akeem," the sixth track, is the most fun song on the album. There's a nice beat and a bright horn line sample in the background. Posner describes it as an "alarm clock song," which is not far off, but the song's fun energy certainly accomplishes its goal — it would be great to wake up to.
Posner clearly set out making this album with a goal — he said so himself on the first track — so the album's success can really be measured by whether Posner accomplished this goal. Did he prove his thesis statement?
Partially. It's clear that "Keep Going" succeeds in reminding Posner that he does great in difficult situations. But does Posner convince the listener that they can do the same? Well, to accomplish that, "Keep Going" might need another draft.