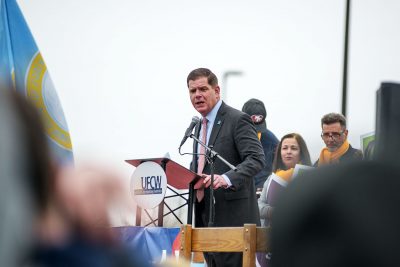 Boston Mayor Martin Walsh announced his picks Wednesday for the 2019-20 Spark Council, a group of 40 young adults from Boston who will be tasked with increasing civic engagement among the city's millennials.
The Spark Boston Council will work to encourage young adults from across the city to get more involved in their communities and the local government, according to its website. The council focuses on specific issues that its members believe are most pressing to the city such as the rising cost of childcare for new parents.
Amy Mahler, director of Spark Boston, said increasing awareness around the upcoming 2020 Census will be a large part of the Council's work this year, as Boston has a notoriously difficult population to count due to a high concentration of renters and students living in dorms.
Additionally, Mahler said the group has worked to increase voter registration and participation among millenials and said the council will be ramping up their efforts in preparation for the 2020 presidential election and congressional elections.
This year's group is 60 percent people of color, with many council members having immigrated to Boston from across both the U.S. and the world, according to a city press release. The current members were selected from a pool of over 180 applicants. 
One council member, Juan Cantu of Allston, currently works as a program officer in the Boston Foundation's education department. He wrote in an email that he is excited that his experience working with youth from disadvantaged backgrounds would make a greater impact on the city with the through his involvement in the Spark Council.
"I'm excited to learn more about Boston, the impressive young people in the city and to promote civic education and engagement in the Latinx community," Cantu wrote. "The Latinx community is the fastest growing community in the City of Boston, and I'm proud to be able to support them in the many ways they positively impact Boston."
Mahler said the council will help to fill gaps in various communities throughout the city. For example, she said the Spark Council hosted the Boston's first Black Millennial Conference in 2013 to build stronger connections between the city's young black residents.
"[They] saw this gap in providing a space and a forum and a public event celebrating and connecting black millennials across the city," Mahler said. "… I am so grateful that Council members saw this opportunity to provide something of real value to the community." 
Mahler said former Boston Mayor Thomas Menino first established the Spark Boston Council—which was originally named One-in-Three—in 2004 to fight the assumption that Boston was not a good place for young people to live and work, as he was alarmed by the trend of young people moving to the city for college but then leaving after completing their education.
Alex Israel, 26, of Back Bay, said she believed that improving public transportation was important for young people and suggested that the Spark Council could take it on as something that would unite their demographic behind a single cause. 
"Better public transportation I think is a huge one," Israel said. "Improving the T, improving the bus systems I think is a huge thing for millennials."
Discussing the issue of increasing participation in the census, Lexi Crivon, 49, of Back Bay, said it was important to work with landlords when trying to count Boston's renter population.
"It's really reaching out to the owners of the rental population to get the sense of stuff [and] to get help from landlords," Crivon said. 
Dorchester resident Neill Lifsey, 50, said he believed there was lots of opportunity to create more community among the young adult population.
"Maybe community meetings will bring a lot of people in the communities together to talk about things that are important to them," Lifsey said.