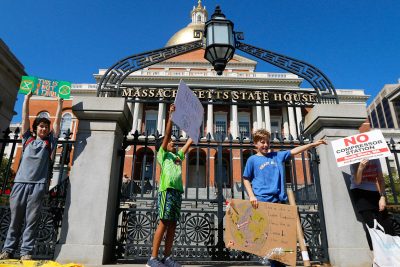 Boston Mayor Martin Walsh released a major update to his climate action plan Tuesday that stated the city will work to reduce carbon emissions from buildings across the city while also constructing new city buildings to meet carbon neutral standards.
Specifically, the updated Climate Action Plan calls for the city to work toward decarbonizing some of Boston's largest buildings, creating new carbon emissions standards to encourage the installation of energy efficient electricity and heating systems, according to a city press release.
This puts Boston on track to meet the goals laid out in the Paris Climate Agreement, which President Donald Trump's administration withdrew from 2017, according to the press release.
The city will also improve incentives for small buildings to work towards carbon neutrality as well, while expanding workforce development programs to train contractors and developers to build within energy efficient standards, according to the updated Climate Action Plan. Ultimately, the city hopes to be totally carbon neutral by 2050.
As for new municipal buildings, the city will task its contractors to meet one of four net zero carbon standards that range from being totally carbon neutral to being ready to convert to carbon neutral energy sources when viable options become available, according to the plan.
Walsh released the Climate Action Plan update ahead of his scheduled appearance at the C40 Mayors Climate Summit in Copenhagen that began Thursday. During one of the panels, Walsh spoke about why it is important to work toward carbon neutrality in Boston.
"Climate change is the defining challenge of our time. As a coastal city, Boston is at the frontlines of this global crisis, and we understand the urgency," Walsh said. "The 2019 update to our Climate Action Plan is our roadmap to carbon neutrality, and together we will ensure all of Boston's residents will benefit from our work to protect against climate change, and create an equitable, resilient city for all."
As part of its efforts to combat climate change, Boston has already lowered its climate emission by 21 percent since 2005 and began preparing for the adverse effects of climate change such as sea level rise and worsening natural disasters, according to the climate plan. 
Due to these efforts, Boston has been ranked the most energy efficient city in the country every year since 2013 by the American Council for an Energy Efficient Economy, according to an email from Walsh's press office.
"The top ranking highlights the success of programs such as Renew Boston Trust, Community Choice Energy and Boston's long-standing building energy benchmarking program," Walsh's press office wrote.
During his panel at the summit, Walsh said that Boston is also pursuing other avenues to combat climate change including adding more parks so areas stay cooler and updating coastal infrastructure and communities for greater climate resilience.

Climate resilience is the ability of an area to withstand and adapt to climate change, according to the National Oceanic and Atmospheric Administration.
Coastal resilience plans are complete for parts of East Boston, Charlestown and South Boston, Walsh's press office wrote, with upgrades still underway for Downtown, the North End and Dorchester.
Jovani Villegas, 28, who lives in Somerville but works in Brighton, said he appreciates that Walsh is taking steps to combat climate change.
"Any initiative that Mayor Walsh wants to put in, I'm like definitely, you know, it sounds great," Villegas said. "I don't realistically know how to do it, especially [with] all the construction stuff going on, but I think all that sounds cool."
Kelsey Carmichael, 25, of Reading, said she believes that it is crucial to do anything to fix climate change.
"I think our world is coming to a really dangerous place and I think we really need to start caring more about our environment," Carmichael said.
Daniel Palomares, 30, of Boston Harbor, said he thinks that it is going to be challenging for businesses to design their building so it is carbon neutral. 
"They are going to be very resistant to it, especially when it's going to cost a lot of money to do it," Palomares said." "I'm just sure it's going to be very difficult for them to actually pull off so it's a matter of what their plan to get business to get to play a part of this, rather than than just kicking and screaming."
In honor of National Newspaper Week, we're asking you to make a donation to The Daily Free Press. The financial support of our community is important now more than ever to help us continue writing stories like this for readers like you. Please chip in whatever you can. Read more and make a donation here. Thank you.