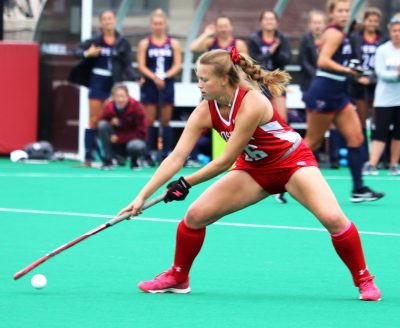 On Friday, Boston University field hockey was looking to snap a six-game losing streak. The Terriers were successful, dominating Colgate on the road by a score of 6-1, allowing BU to improve to 4-7 overall.
Head coach Sally Starr said she was very impressed by her team's performance and stressed the importance of getting a dominant conference win on the road.
"It was really important that we went to Colgate and won a game," Starr said. "A conference win is huge for us in this point in time of the season."
Over the course of the season the Terriers have struggled offensively, but that was not the case at Colgate with the six goals being scored by six players.
Starr said she was very impressed with her team's offensive improvement.
"I really felt like we did a lot of things well at Colgate," Starr said, "things that we worked on during the week in practice, trying really to get ourselves in better positions to score goals."
The Terriers dominated this game overall, getting 21 shots on goal, while Colgate only managed 3. With this win the Terriers secured their first conference win and moved to 1-2 in Patriot League Play.
Boston College
The Terriers had a short turn-around from the Colgate game, playing rival BC on Sunday at New Balance Field and lost by a score of 5-0
BC started the game hot, with freshman Margo Carlin scoring two quick goals early in the first quarter.
The Terriers mustered very little offensively in the first quarter, only getting two shots on goal.
Starr said she felt that the game was already lost in the first quarter.
"I thought we lost the game in the first quarter," Starr said. "I thought we were flat, we were standing around, we were slow on the ball, we were slow making decisions and it's not the way we play the game."
BU mustered very little offensively for the rest of the game, only getting two shots on goal in the second quarter, four in the third quarter and none in the fourth quarter.
The Eagles went on to score three more goals after the first quarter. Margo Carlin added two more to her tally, finishing with four goals total.
Despite the team's performance,Starr is committed to making sure her team improves specifically by, "being smarter, play at pace better, make better decisions on the ball."
The Terriers will be competing again on Oct. 19 and 20 with two home games against American University and Princeton University.