An essential part of being a vegetarian is, reasonably, not eating meat. However, back in 2013, scientists in the Netherlands may have invented a plausible way for vegetarians to eat hamburgers, sausages and the like. The solution: lab-grown meat.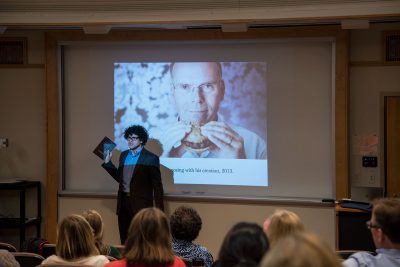 Boston University's College of General Studies hosted author and historian Benjamin Aldes Wurgaft for a discussion on his new book, "Meat Planet: Artificial Flesh and the Future of Food" on Oct. 10.
At the event, Wurgaft went into depth on his book, which compiles all of his research on cultured meat and the social, political and philosophical ramifications behind creating a meat-based, meat substitute. The lab-grown meat is produced by taking cow cells and using them to form strips of muscle. 
Cultured meat is not currently approved for widespread consumption by the U.S. Food and Drug Administration. However, in March the FDA and the Department of Agriculture announced a regulatory framework for the creation of cell-based meat —  a crucial step for those seeking to capitalize on the product. 
Wurgaft also questioned the motivations of those working to produce cultured meat and bring it to the market. 
"There's no reason to suspect them of insincerity about their motivations," Wurgaft said in an interview. "I think many of them do want to eliminate the sort of environmental and ethical problems created by industrial scale animal agriculture. On the other hand, some of them also want money." 
Rachel Novack, a senior in the College of Arts and Sciences and vegetarian, attended the discussion to better understand cultured meat and to learn more about it. 
"I've had tofu and Gardein [a company which produces meat-free foods] but this is cultured," Novack said. "I'm very curious to see how the whole process comes about and how that process can influence ideas on [lab made meat]." 
With cultured meat still unavailable to the public at large, companies providing plant-based meat substitutes, such as Beyond Meat, have grown wildly successful. 
As of July 2019 Beyond Meat products have reached a value of $67.3 million, a 287 percent spike in revenue sales since last year. Overall sales of plant-based foods have grown 11 percent in the same time, according to CNN Business. 
Wurgaft said some companies looking to capitalize on the emergence of cultured meat are not simply doing so out of a sense of virtuosity.
"What's really interesting is that many of them think that there are virtuous ways of getting and being rich," Wurgaft said. "They are of a school of thought according to which wealth and virtue are not foreign to one another."
The Impossible Burger, a popular, plant-based item from meat-substitute company Impossible Foods, was one of the first items on vegetarian restaurant Rhythm n' Wraps' menu when they opened their brick and mortar location in Allston. 
Charlie Lumpkins, the chef at Rhythm n' Wraps, said their selection of Impossible Burgers, which include their traditional burger with lettuce, onion and tomato and a signature burger topped with mac and cheese, are some of the restaurant's top selling items.  
"Of our top five sellers, I would say our burgers are in the top five," Lumpkins said. 
Despite being readily available in stores and at other venues, Lumpkins said that the Impossible Burger is still attracting customers to Rhythm n' Wraps. 
"Even with all the changes, with other restaurants picking it up and it being in the stores now … we still find that customers are definitely coming and looking for [the Impossible Burger],"  Lumpkins said. 
Wurgaft said it is currently impossible to tell how the introduction of cultured meat may impact restaurants and stores in the future.
"There is absolutely no way of knowing," Wurgaft said, "and in fact the important thing to say is that anyone who claims that they know is trying to sell you something."