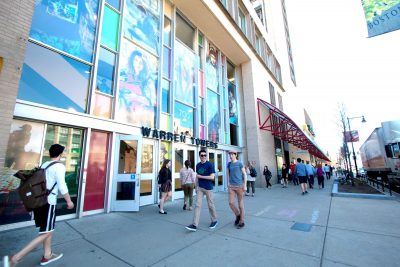 Boston University students will soon have the chance to reunite with their family and friends for three days of events sponsored by BU.
The Office of Orientation and the Parents and Family Programs will host Family and Friends Weekend — three days of activities catered to students and their loved ones — this weekend from Oct. 18 to 20.
Students can take their visitors to meet deans of BU's colleges, work out for free at the Fitness and Recreation Center, and more.
The majority of the events are free, but some events including the Hariri Building Roof Top Tours, a Coffee Talk with author and mother of a BU student Liz Yokubison and "The Job: Work and its Future in a Time of Radical Change," each have a $5 admission fee.
All events require registration via Eventbrite and some, like the Roof Top Tours and Yawkey's Career Directions and Conversations, are already sold out. Registration ends Saturday, Oct. 19.
Shiney James, the director of orientation, said the purpose of Family and Friends Weekend is to let guests get a more in-depth look at what BU has to offer.
"I'd say our goal for family and friends weekend is to give our loved ones the chance to see what our campus is like when it's truly alive," James said.
Associate Dean of Students Katherine Cornetta said events are a starting point for promoting engagement while simultaneously providing an opportunity to learn about BU.
"It is hopeful that families who are able to join us leave the weekend having spent [a] good time with their student and feeling positive about the University community," Cornetta said.
Cornetta added that both students and parents are able to get something out of the experience.
"Students gain the opportunity to have their family members on campus and give them an idea of what campus life is like," Cornetta said. "Parents enjoy attending so they can spend time with their students and have another opportunity to engage with the University."
James said the weekend is in part about trying new things.
"Folks should take an opportunity to look at the schedule and do something they've never done before," James said. "Do something you would never do and enjoy it."
Cornetta said the Office of Orientation takes propositions for events during the weekend from colleges and student organizations under consideration, then decides which fit best with the weekend.
Christy Loring, the associate director of Parents and Family Programs, is spearheading several of the events. This year, Family and Friends Weekend coincides with the Head of the Carles Regatta and Loring said the Roof Top Tours will provide an opportunity to get a view of the show.
"We want to provide families with a great vantage point to watch the Head of the Charles Regatta while at the same time learning more about the University and the City of Boston," Loring said.
Loring said events such as "Rise and Fall: the Story of 9/11" and "The Job: Work and Its Future in a Time of Radical Change" will showcase BU's faculty, while the former will also immerse them in the student experience.
Author Liz Yokubison of college parenting guide "They're ready. Are You?," will co-host the Coffee Talk alongside Dean of Students Kenneth Elmore. Yokubison said the event will begin with Elmore interviewing her and progress into an open dialogue with the audience.
"Our job is to facilitate the parent discussion and have parents come away feeling like they've learned nuggets of wisdom to help them let their child go," Yokubison said.
Stella Rigden, a freshman in the College of Arts and Sciences, said she's looking forward to seeing her family considering the adjustment she's had to go through being so far from her home in Wisconsin.
"It'll be nice to see [my family] in person instead of over FaceTime," Rigden said.
Rigden added that her family won't attend Family and Friends Weekend specific events, but they will go to the BU hockey game on Friday.
Samantha Stoker, a sophomore in CAS, said her family has not been able to participate in the weekend before, nor does she think they will in the future.
"I'm from Atlanta, so just anyone coming out for that weekend would be challenging financially," Stoker said.
Charlotte Mack, a freshman in Sargent College of Health and Rehabilitation Sciences, said she's also excited to see her parents, although they won't participate in BU-run activities.
"I'm really looking forward to parent's weekend because they live very far away so it will be nice to see them before I get to go home for break," Mack said.
James said despite the fact that students aren't taking part in the BU events, it's nice to know they want to show off Boston to their parents.
"I think it's kind of exciting that our students are doing other things outside of the program," James said, "because that means they found their home."