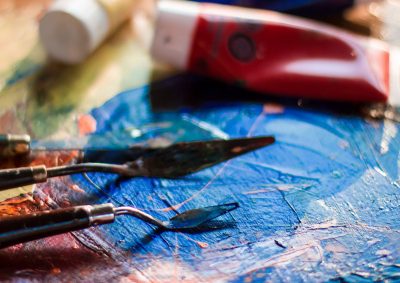 Older adult residents in Boston's South End, Mattapan and Jamaica Plain neighborhoods now have the opportunity to take free art classes through a new Creative Aging Program, Mayor Martin Walsh announced Friday. 
The pilot program offers free courses in ceramics, painting and jewelry-making to older adults in these neighborhoods, according to a press release from the city's Age Strong Commission. The classes were established as a part of a larger effort by the commission to eliminate implicit biases surrounding aging.
The Mayor's Office of Arts and Culture and the Age Strong Commission launched the program in partnership with Goddard House Community Initiatives and Lifetime Arts, according to the press release.
Jullieanne Doherty, director of outreach for the Age Strong Commission, said representatives from Goddard House first approached the city about expanding arts offerings to older Bostonians. 
"Goddard House has been really wanting to put out into the community a possibility of creating community-based programs that really lift up older adults, especially in the arts," Doherty said. 
Doherty said the South End, Mattapan and Jamaica Plain communities were chosen for the pilot program because they include populations that are generally less likely to have access to cultural enrichment. 
"The specific goal was around truly targeting those that are most at risk for social isolation," Doherty said. "So specifically, older adults who are from immigrant backgrounds and don't speak English, as well as our LGBT older adult population, as well as seniors with disabilities."
Candace Cramer, the CEO of Goddard House, said her organization has witnessed the positive impact that arts programming has on older adults at its assisted living facility in Brookline.
"We have lots of ways that people can engage creatively," Cramer said. "And we've really seen how much our residents benefit from that, how much they enjoy learning something new or creating something beautiful."
Maura O'Malley, the co-founder and CEO of Lifetime Arts, said the Goddard House provided funding for teachers in the Creative Aging Program to be trained by professionals from Lifetime Arts, a national nonprofit that promotes arts education for older adults and prepares artists to work with older populations.
O'Malley said she hopes the trained teaching artists will promote positive attitudes towards aging.
"Our work is to basically train people and lay the groundwork so that eventually organizations can implement these kinds of programs [on their own]," O'Malley said. "The goal is to sort of flip the switch on ageism, and look at older adults in a positive way."
Lifetime Arts has trained 24 artists to serve as teachers in the Boston program, according to the press release.
O'Malley said the Creative Aging Program classes include eight sessions with a culminating event and will be hosted at the public library branches in Mattapan and Jamaica Plain, as well as at Inquilinos Boricuas En Accion in the South End.
Cramer said the classes will provide older adults with the opportunity to build meaningful relationships.
"I really hope people get to know each other, you know, in the class, and hopefully those friendships will extend beyond the time that they're together," Cramer said. "And I'm super positive, I know we're going to have just great feedback from the participants and the teaching artists and I'd ultimately love to see it expand."
Michelle Phinney, 26, of Dorchester said it is important for older adults to have opportunities to engage with others outside of their homes.
"I think just interacting, having some socialization, you know, having something to look forward to, a hobby [is good]," Phinney said.
Sonya White-Hope, 53, of Fenway said the program has the potential to make a positive impact if it is administered properly.
"I anticipate it will [make a positive impact], assuming that it's run well," White-Hope said. "There's an expression that the devil's in the details."
Gloria Platt, 88, of Fenway said older adults will undoubtedly benefit from activities that occupy their free time.
"It's just that if they have quite a bit of spare time on their hands and all," Platt said, "it's nice to have something interesting to do."