The interior of the WBUR Cityspace auditorium, with its uniform rows of sleek red chairs, looks like the inside of an iPhone. Or at least comedian Cristela Alonzo thinks it does, as she joked on Oct. 12 when she visited the space as a part of her "My Affordable Care Act" tour.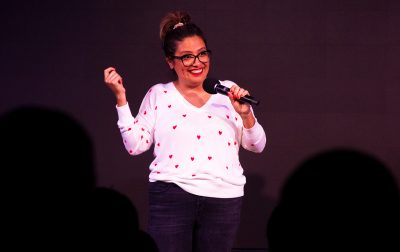 The tour kicked off Oct. 8 and marked the release of her Alonzo's memoir, "Music to My Years." Saturday night's show also featured a "Book Package," which provided attendees with a copy of her new book. 
Alonzo created her own sitcom "Cristela" in 2014 which made history as the first Latina-created,  produced and starred-in sitcom. The comedian also had her own Netflix special "Cristela Alonzo: Lower Classy" in 2017 and voiced the character Cruz Ramirez in Pixar's "Cars 3."
A two-in-one stand-up and book tour lets Alonzo weave her comedy in with the personal stories shared in her memoir, Alonzo said in an interview after the show. 
"You have to make people laugh. That's the job," Alonzo said. "But with a book tour, you can actually allow yourself to have moments where you don't necessarily have to be funny. It's more about the storytelling."
"Music to My Years" is a deeply personal memoir about her journey as a stand-up comedian and her upbringing as a Mexican-American woman in Texas, according to the comedian's website. Despite the serious moments in Alonzo's memoir, Saturday's show was filled with laughs — sometimes poking fun at personal and sensitive material. Openers Andy Haynes and Steve Halasz, also comedians, also provided plenty of laughs.
Haynes opened the night joking about Alonzo enjoying having straight, white males work for her — Haynes and Halasz both being straight, white males. 
Haynes, Halasz and Alonzo's material offered various diverse perspectives throughout the show. Halasz said that while he felt different growing up Jewish, it has given him a unique perspective. 
"When I was a kid, I always felt a little different," Halasz said in an interview. "I think most comedians will all have a story about feeling different or seeing things differently."
Alonzo's latest tour marks her return to stand-up comedy following a two-year break to focus on issues she cares about, according to an Oct. 8 interview with LAist. Alonzo said in an interview with The Daily Free Press that while it felt good to come back to comedy, it also felt strange incorporating different, more recent topics such as her feelings surrounding the 2016 election.  
"It's weird to come back to it because I feel like I'm different because I lived a life for a bit," Alonzo said. "What I talk about has evolved, which is good because that's what you're supposed to do in standup, Go with the flow and talk about where you're at now. It's like riding a bike and that you never forget, but it's also like an iPhone where every now and then you gotta update."
Halasz, who said his friendship with Alonzo has spanned 15 years and has seen the pair workshop each other's material and travel across the country on tours, complimented Alonzo following the show in an interview after the show.  
"Her standup tends to focus on a lot of issues, political issues, race, class, health, and immigration. She makes it funny, she's a comedian first and she weaves those things in really well," Halasz said. "I think that's why they booked us here at the cityspace."