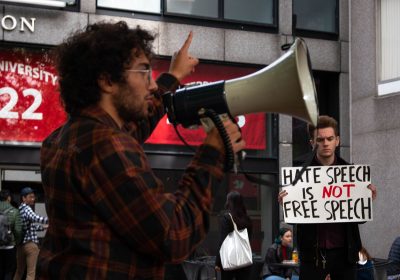 Students held a rally Wednesday to protest the invitation for Ben Shapiro to speak at Boston University. The group who held the event, Students Against Hate Speech, said they believe Shapiro's rhetoric should not be allowed on campus.
BU Young Americans for Freedom invited Shapiro to campus and is in negotiations with BU administration to confirm the date, location, and security costs of the event.
A group of around a dozen people handed out fliers and spoke to the crowd outside the George Sherman Union. The protesters held signs that said things like "Hate speech is not free speech" and "13K of your tuition to support Shapiro's hate speech."
The group's goal, stated on hand-out fliers, is to "Tell BU we don't want Ben Shapiro, a racist homophobic hatemonger at our campus." 
Chance Charley, a junior in the College of Arts and Sciences, said he was inspired to help orchestrate and mobilize people for the rally because he does not think Shapiro belongs on BU's campus.
"We think it's completely antithetical to what we should support as students," Charley said. "It's completely antithetical to the university's mission of supporting inclusion and diversity."
Harishan Ganesan, a sophomore in Sargent College of Health and Rehabilitation Services and organizer of the rally, said two of the group's main problems with Shapiro were his views on LGBTQ rights and equal human rights.
"He says that people who are transgender have a mental illness," Ganesan said. "He thinks the lives of citizens in Afghanistan are of less worth than US troops' [lives]."
Ganesan said she thinks the First Amendment, which bars Congress from making laws that infringe on freedom of speech, doesn't apply to a speaker invited to a private institution.
"Under the First Amendment, there's nothing protecting Ben Shapiro from coming to BU. It's a private institution," Ganesan said. "It's our First Amendment right to be protesting here."
Marco De Laforcade, a junior in CAS, said he doesn't have a problem with conservative speakers on campus, but feels Shapiro's rhetoric on transgender and Palestinian people should disqualify him from speaking at BU.
"At the end of the day, we are here to protest, we are here to say enough is enough," De Laforacde said. "You can invite your conservative speakers, free speech is absolutely tolerated on campus, but what you're not allowed to do is invite people who will make our trans friends and our brothers and sisters who are Palistinian feel unsafe on campus."
The rally has been in organization for a couple weeks, said Melissa Hurtado, a senior in CAS and fellow organizer of the rally.
"[Students Against Hate Speech] came together because we all have similar ideals as a group and we also wanted to create a voice for BU students," Hurtado said.
Hurtado said she thinks free speech becomes hate speech when "you turn an opinion into something that can inflict hate and violence upon someone." Hurtado said she thinks Shapiro's past comments meet this definition and therefore should not be welcomed at BU.
Noah Hill, a junior in CAS and treasurer of BU YAF said in an interview he doesn't have a problem with peaceful protests against Shapiro like the Wednesday rally.
"We're fine with it because we know that it's probably not going to result in [Shapiro] not coming to campus," Hill said. "We just hope that there's no violence taken out against him or that there's no instigation of violence."
Dan Treacy, a sophomore in the College of Communications and member of YAF, said in an interview he thinks the protest is an example of conservative voices not being welcome on campus. 
"Conservatives generally aren't represented well on this campus," Treacy said. "The people who don't want to hear [Shapiro] don't have to go."
Jeremy Diaz, a sophomore in Wheelock College of Education who attended the rally, said he was drawn to the protest because he thinks Shapiro is dangerous for American youth.
"Ben Shapiro is the figurehead of a very destructive ideology that poses an insurmountable threat to our youth," Diaz said. "And as a prospective teacher, it is very troubling that Boston University is welcoming him to the youth."