Sitting in a tie for fourth place in the Women's Hockey East, Boston University women's hockey team will travel to Storrs, Connecticut to face the University of Connecticut Friday evening.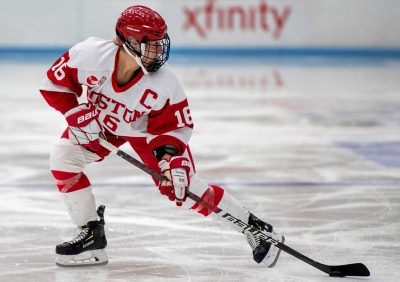 BU (1-1-1, 0-1-1 Hockey East) is coming off a 4-2 loss against the University of New Hampshire (3-1-1, 2-0-0 Hockey East), where the Terriers struck first, but were unable to come from behind when UNH scored three goals in a row.
Redshirt senior captain Sammy Davis has produced at least one point in all three games this season, including a goal and an assist in BU's loss against the Wildcats.
Coach Brian Durocher said his team has to be more energetic and focused when going into games, as opponents often have BU marked on their calendars. He's made sure to stress this to his team this week going into Friday's game against UConn.
"Just a couple technical things," Durocher said on what is being emphasized in practice this week to get ready for the Huskies. "We are continuing to always keep striving to make sure we are competing as far as we did last year."
UConn (3-1-0, 1-1-0 Hockey East) is coming off a 2-0 win over the College of the Holy Cross (0-3-2, 0-2-0 Hockey East), where the Huskies picked up their second shutout of the season. Their first shutout came against Long Island University (0-2) in a 4-0 victory.
Against Holy Cross, juniors Savannah Bouzide and Morgan Wabick each scored for UConn, while sophomore goaltender Samantha Carpentier-Yelle made 19 saves to secure the Huskies' first conference win.
UConn is led offensively by junior forward Natalie Snodgrass who has five points and junior forward Morgan Wabick who has three goals so far this season.
Durocher stressed that UConn has been a defense-first type of team over the years and that the Huskies have had solid goaltending.
"They are a strong team. We are up for a battle every single time and usually they are relatively low-scoring games," Durocher said on how the Terriers have matched up against UConn in the past. "I would expect nothing but the same. They don't beat themselves, they defend well, they'll play disciplined throughout, and they are a mentally tough team."
UConn has been limiting their opponents to 17.5 shots per game, which Durocher said should not be an issue for BU's offense.
"It has to come with volume. You can't look at one person or one line," Durocher said on how the Terriers plan on creating chances. "Everybody's got to chip in. Particularly on the power play, you got to generate shots. Keep it simple."
Last season BU went 2-0-1 against UConn and are currently riding a two-game win streak against the Huskies. In their most recent victory, eight different players recorded a point to lift Terriers over UConn.
Junior Nara Elia, sophomore Courtney Correia and sophomore Emma Wuthrich each found the back of the net, while junior goaltender Corrine Schroeder made 35 saves for the Terriers.
The lineup for Friday's game has yet to be determined, but the return of star forward Jesse Compher seems unlikely. Compher has yet to suit up for a game this season, as she has been dealing with a lingering lower-body injury.
While the timeline for Compher's return remains unclear, Durocher says that there is no rush to bring her back in the lineup.
"We want to make sure that when she's back, she's ready," Durocher said. "It's getting close, but no exact word just yet."
Durocher has not made any decisions as to who is in net for the Terriers Friday night. Sophomore goaltender Kate Stuart made her first start of the season in Saturday's loss against UNH, so it is a possibility that Schroeder will be back between the pipes.
"Not 100 percent sure, but there is a good chance we will go back to Corinne Schroeder," Durocher said. "I think Kate did a real nice job and I liked the way she played. You'll see both of them plenty as we go along."