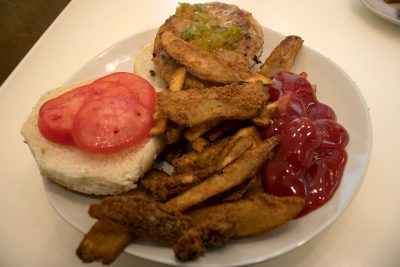 Massachusetts ranks 27th in the nation for adolescent obesity rates, despite having the fourth lowest adult obesity rate nationally, according to recent statistics from the Robert Wood Johnson Foundation.
Specifically, 14.4 percent of children ages 10 to 17 in Massachusetts were reported to be obese between 2017-2018, according to the data updated in October. On the other hand, 25.7 percent of adults were reported to be obese during 2018.
Director of media relations at the Robert Wood Johnson Foundation Jordan Reese wrote in an email that obesity, especially childhood obesity, is an ongoing problem and should be addressed immediately. 
"There is no question that obesity is one of the biggest threats to our nation's health, health care system, economy and future," Reese wrote. "Children who are overweight or have obesity are at greater risk for diseases such as type 2 diabetes and heart disease, which have a significant impact on health and health care costs."
Accessibility to healthy foods stands as a large factor in the high rates of obesity among children. Black and Hispanic residents were 5 to 6 percent more likely to be obese than their white counterparts, according to the data.
Reese wrote some populations had higher rates of obesity because of limited accessibility to healthy food options and other resources.
"The choices we make are dependent upon the choices we have," Reese wrote. "Unsafe playgrounds mean less exercise. Food deserts mean less nutrition and more empty calories. Poverty and lack of opportunity are key factors that lead to less opportunity for health."
Executive Director of the Massachusetts Health Council David Martin said one of the biggest reasons for the higher childhood obesity rates is the amount of unhealthy food readily available to children.
"Sugary drinks and unhealthy foods are easily accessible, and thus consumed by a lot of children," Martin said. "That's a big problem leading to the rates we have." 
There have been actions taken to relieve the issue, such as encouraging physical activity and making healthy food more accessible. However, Reese wrote that there is always more that can and should be done. 
"We can always do more," Reese wrote. "The policies that affect child care settings, schools and communities are critical for helping children grow up at a healthy weight, as are the Supplemental Nutrition Assistance Program and other federal nutrition assistance programs that millions of families rely on."
The Child Nutrition Outreach Program, funded by the Massachusetts government and operated by Project Bread, works to ensure children have access to the proper nutrients they need. 
Project Bread's Director of Child Nutrition Natasha Smith said her organization is committed to improving meal access for children and their families, both during the school year and the summer. 
"School meals are often just as or more affordable than other, less healthy meals," Smith said. "Students whose families qualify can receive free or reduced-price school meals every day, making it easier to access healthy food on a low budget."
No Kid Hungry is another organization that is dedicated to providing kids with nutritious meals. Director of Strategic Communications Laura Washburn wrote in an email that while the organization focuses on childhood hunger, they know that hunger and obesity are all related to lack of accessibility.  
"Families experiencing low-income too often lack access to healthy food and the skills and resources to prepare healthy meals," Washburn said. "That's why No Kid Hungry is working to connect kids to the healthy food they need every day."
Adele de Crespigny, 24, of Brighton, said that as a graduate student studying elementary education, she is not surprised at all by the recent statistics. 
"I'm in schools a lot of the time, and I see, kind of school lunches and what kids eat a lot of the time, so I'm really not surprised," De Crespigny said. "There's a lot of push for food companies that maybe don't use the best ingredients and are not maybe that great for children."
Kerri Babish, 38, of Medford, said she believes accessibility to healthy foods and the tools to prepare them is a big factor. 
"I taught middle school for four years at a fairly low income district, and some of my students might be living with a lot of people, so kitchen access or what kind of tools they had available might not be what I have at my house," Babish said. "And so whether the healthy food is not only accessible, but like [whether they are] easy to make and eat, I think, is a big factor for them."
Christine Heneghan, 58, of Dorchester, said she is not surprised by the higher rates of childhood obesity compared to that of adults. 
"I think kids don't play outside as much, you know. Kids don't move," Heneghan said. "They're attached to their devices. But more adults are moving, so I'm not surprised by that at all. I thought Massachusetts would be higher for kids, actually."