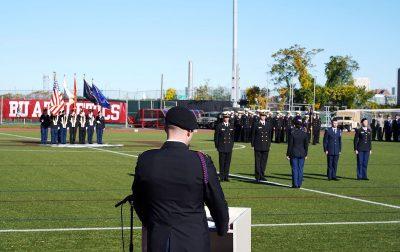 Celebrating 100 years of service, Boston University Reserve Officers Training Corps held its annual Pass-In-Review ceremony on Saturday.
Providing attendees with a brief understanding of ROTC's historical significance, Douglas Sears, director of the Division of Military Education at BU, described the program's purpose as to provide U.S. Defense with highly educated and committed officers.
"The common thread among these students is their conscious decision to take the less-wandered path of service," Sears said.
Though the program came to a halt amidst mass Vietnam War protests on campus, BU's ROTC has thrived since its revival, Sears said.
Despite the momentous anniversary, the ceremony still retained its focus of congratulating the hardwork and dedication of each student in the program.
As one of six universities in the country to offer all three ROTC programs, military, navy and marines, the ceremony was a display of each program's traditions.
The ceremony included the adjutant's call, an inspection from Brigadier General Antonio Munera and a release of mock cannons.
Three of the graduating seniors have obtained the rank of General Officer.
Kathy Dillon, mother of a ROTC naval student, said the program has provided her son with every opportunity he could have hoped for, and as a parent, she is proud to support a program that is both deep in its historical roots and rich in its present practice.
ROTC students were recognized for their efforts in and out of the program. Students within the ROTC program study mechanical engineering, linguistics, earth and environment, among many others.
Munera ensured students, family members and friends in attendance that their learning as a leader does not end with the completion of the program.
Mundera encouraged ROTC students to value the success of their future subordinates as much as their own and to welcome feedback with open arms.
"The art of command is the art of humanity," Munera said.