The Boston University men's soccer team (3-10-1, 2-4-0 PL) traveled to Lewisburg, Pennsylvania Sunday to face off against the Bucknell University Bison. The game ended their  three-game winning streak as they lost 0-3 in the first game between the two Patriot League teams to end in regulation.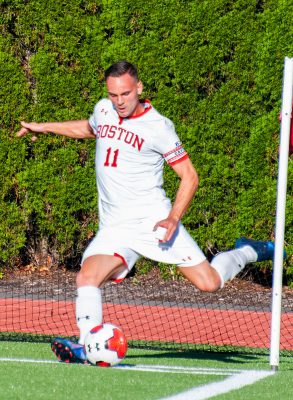 The game was initially offensively dominated by the Bison (5-5-3, 2-2-2 PL) as they shot eight times in the first half of the game beginning in the 23rd minute and went on to shoot 12 times overall. Junior Goalkeeper Michael Stone had two saves in the half as well. 
Stone dove to save a rebounded shot by Bucknell's sophomore forward Patrick O'Hara following a shot hitting the crossbar by junior midfielder Matt Thorsheim in the 23rd minute, but was unsuccessful in stopping the Bison from taking the lead.
A shot by sophomore midfielder Kari Petursson was fired into the goal, but Bucknell's freshman goalkeeper Luke Smith did well to keep it out. 
Within the first 12 minutes of the second half, Stone made two more saves against the charged Bucknell offense. The Terriers mounted their attacks, but Bucknell remained persistent in pressuring the Terrier's backline.  
In the 76th minute, Bucknell's sophomore forward Patrick O'Hara passed to junior forward Kevin Gulizio who appeared to knock the ball down with his arm prior to scoring the second goal of the game putting the Bison at a 2-0 advantage. The Terrier's attempted to argue for a handball, but received the first yellow card of the season instead. 
The Terriers had another corner and offensively attacked with five shots, but remained unsuccessful in scoring a goal. Freshman Jorge Lopez Lacu lead the team with three shots throughout the game. Utilizing the momentum of this no-call the Bison shut out BU, with a third goal in the 88th minute of the game, closing out the gameplay with a 3-0 loss for the Terriers. 
The Terriers will face off next against the US Naval Academy on Saturday Oct. 26 at 1 p.m. on Nickerson Field following the alumni game at 10 a.m.