After a disappointing loss to New Hampshire on Oct 12, the Terriers were able to rebound and secure a 1-0 victory against UConn (4-2) Friday night, allowing BU to improve to a 2-1-1 record overall.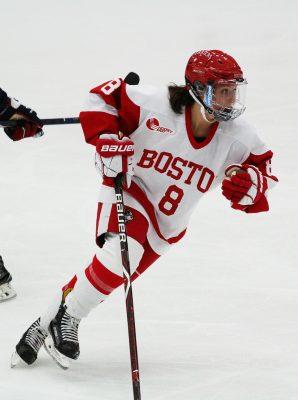 Head coach Brian Durocher was impressed with the consistent play of the team and stressed the importance of picking up a win on the road.
 "It's always great to get points on the road.  We started the game a whisker slow, but then we played consistently for the back fifty minutes of the game," said Durocher.  
The game was dominated by defense, with junior goalie Corrine Schroeder defending a total of 38 shots with 14 shots coming in both the first and third periods, as well as 10 shots in the third period.  The most important save came with 6:30 left in regulation when UConn junior forward Morgan Wabick, the team's leading goal scorer, managed to get behind the BU defense and had a one on one chance against Schoeder.  Despite being isolated against Wabick, Schroeder stood tall and stonewalled Wabick, spoiling an amazing opportunity for UConn to tie the game. 
  The Terriers also had to go on the penalty kill three times during the game and Shroeder successfully defended all 11 shots that came as a result of the UConn power plays.  Two of the penalties came from hooking calls against sophomore Courtney Correia in the first period and senior Abby Cook in the third period. The other penalty was a high sticking call against senior Natasza Tarnowski in the second period.  
Durocher was very impressed by Schroeder's performance and with the team's overall defensive performance. 
"All seven defenseman played pretty smart, they kept the game fairly simple…Credit to the penalty killers and certainly credit to Corrine Schroeder who was our best penalty killer tonight and played very well all through the game." 
 On the offensive side of the game, both teams were scoreless in the first period, but late in the second period with only 51 seconds remaining, senior Deziray De Sousa was able to get the rebound of a shot from Abby Cook and put the puck in the back of the net, giving the Terriers a 1-0 lead, which held throughout the rest of the game.  
 Despite the victory, Durocher still believes the team has areas where they can improve offensively, such as playing with a fast pace and not having plays develop slowly.  
 "We talked about tonight making sure that we're playing quick.  We can't have a slow developing play and all of a sudden one or two back checkers stops a 3 on 2 and it's no longer a good scoring opportunity."