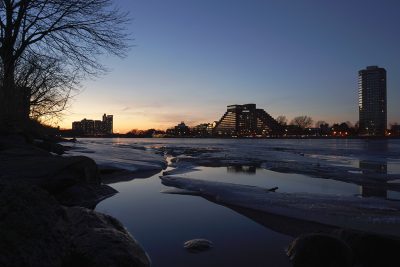 Boston is in for a warmer, milder winter this year, according to the National Oceanic and Atmospheric Administration's forecast released Thursday. This matches a multi-year trend of warmer winters across the U.S.
New England is also unlikely to experience a significant increase in precipitation this winter, according to NOAA's 2019-2020 Winter Seasonal Outlook.
During a NOAA press call, Mike Halpert, deputy director of NOAA's Climate Prediction Center, said this year's absence of an El Nino or La Nina season means that long term trends will have a larger effect on winter this year.
"These trends favor above average temperatures across most of the South, along the east coast, and in Alaska and Hawaii," Halpert said.
During El Nino years and La Nina years, Pacific ocean sea temperatures are higher and lower, respectively, which can impact the severity of the winter season, according to NOAA's website.
Halpert said in an interview that NOAA periodically releases outlook reports in order to help people and businesses prepare for potentially tough conditions. 
"Our outlooks are designed to help various economic sectors of our society," Halpert said. "So, for example, the companies that provide power so you can heat your home utilize this information to see if they're going to need to come out and help people warm their homes more or less than in a normal winter."
Halpert said the outlook focuses on a specific 90-day period, December to February, and NOAA curates the outlook using records of previous winters from a reference period of 1981-2010, the activity or inactivity of various climate patterns and more. 
These predictions are consistent with the long-term predictions outlined for Massachusetts. 
Minimum, maximum and average temperatures are all expected to increase this century, according to statewide climate change predictions from researchers at the Northeast Climate Science Center at the University of Massachusetts Amherst, whose work is used and supported by the Massachusetts Executive Office of Energy and Environmental Affairs.
Overall warmer temperatures, however, do not rule out the possibility of cold-weather periods this winter. 
While science is still emerging, Katie Gronendyke, communications director of the state's Executive Office of Energy and Environmental Affairs, wrote in an email that widespread warming trends can actually promote periods of intense cold.
"While our winter is getting warmer on average, the weakening of the arctic jet stream is leading to more frequent, and maybe long term, episodes of arctic chill in the Northeast," Gronendyke wrote.
As for the rest of the nation, those who live in parts of California, Texas, Arizona and New Mexico can expect drought conditions to persist or worsen this winter, whereas most of the Great Lakes and the Midwest can expect wetter than normal conditions, according to NOAA's seasonal forecast.
While temperatures are on a general warming trend at the moment, Halpert said these trends are not always consistent across the globe and may not remain consistent in the future.
"The interesting thing is that although the planet is certainly as warm as it's ever been, at least in our recorded history … it doesn't mean that that the temperature is always going to be warmer at every point on the planet," Halpert said.
Natalie Zucco, 19, of Fenway-Kenmore, said that the warming trend stood out and she was not happy about it.
"It's not great," Zucco said, "it's kind of concerning for the planet overall."
Fenway-Kenmore resident Mia McGillicuddy, 19, said she wonders how warming trends will affect politics on a local and national level.
"I think that [the report] just raises the question of what Boston, Massachusetts and the nation are going to do about [climate change]," McGillicuddy said. "I know a lot of people want politicians to be more active on things like this, so we can try to raise awareness."
Abigail Parsons, 33, of Brookline, said she thinks warmer winters could make walking in winter harder for Boston residents.
"I walk back and forth to work so I'm outside a lot," Parsons said, "it's about two miles and so obviously snow has a big effect, and heavier, wetter snow from warmer temperatures is tough."