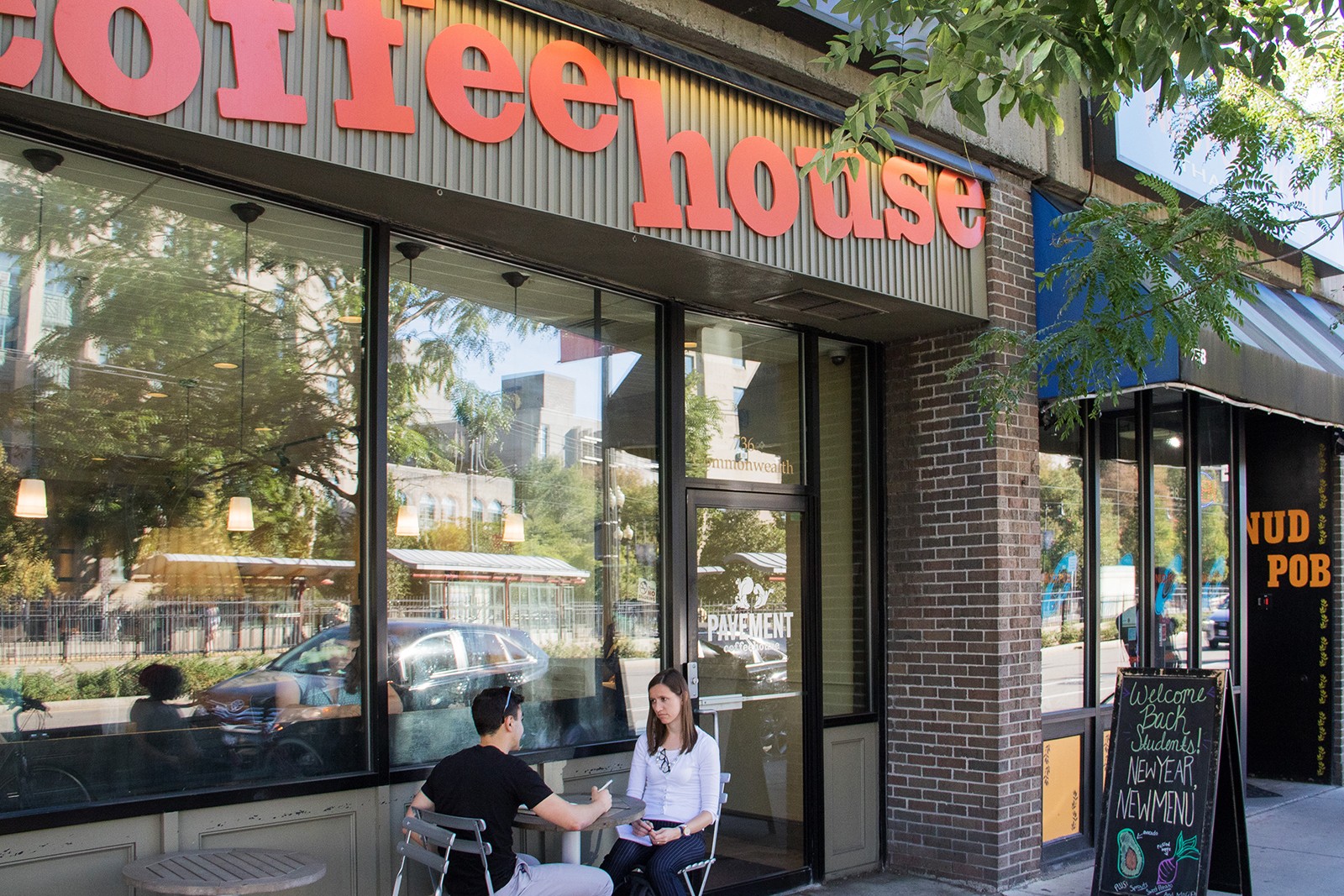 As students settle into the fall season on Commonwealth Avenue, two on-campus restaurants,  Pavement Coffeehouse and Otto Pizza, are helping students get into the autumn spirit with pumpkin-, maple- and cider-flavored dishes now available on campus. 
Pavement Coffeehouse, which describes itself on its website as, "your local coffee shop in Boston," has eight locations spread out across the city.  While the cafe has other locations in Newbury and Fenway, students at Boston University don't have to walk far to try the coffeehouse's seasonal beverages and snacks.
Baily Zuniga, the manager of Pavement Coffeehouse at BU, said the coffeehouse includes various seasonal items including a cinnamon fig latte, apple cider (which replaces lemonade on the menu) and "chaider," which is half cider and half chai. 
Zuniga said he sees lots of people trying new fall items while they last in-store.
"I think everyone gets reinvigorated and excited to try something new," Zuniga said. "It's something a lot of people on staff are always excited for. It's like, they go away and you only have a temporary time to get all the cinnamon fig and cider that you can."
Maple-flavored items are also a staple, Zuinga said. Pavement offers various maple items including maple pecan cookies, a maple syrup cold brew and a maple variant for the cafe's Death Cream — a coffee drink comprised of vanilla flavoring and condensed milk. 
So far, Zuniga said their chaider has been popular this year. Items such as Pavement's cider and chaider are annual staples for the coffeeshop, Zuniga said, but the shop is also experimenting with new pastries including a maple pecan cookie.
Further down Commonwealth Avenue is Otto Pizza. Founded in Maine, the pizza joint has four locations throughout Boston as well as locations in Lynnfield and Newburyport.
Sean Ryan, the chief operating officer at Otto Pizza's West Campus location, said the restaurant doesn't have a seasonal menu but changes its menu items on a monthly basis. Ryan said their November specials include ground turkey, butternut squash and apricot stuffing. 
"We change our specials monthly," Ryan said, "and we try to use that platform to address any seasonal changes that we're seeing."
For Otto, Ryan said customers have come to expect a Thanksgiving or seasonal-themed pizza dish from the restaurant.  
Naomi Tam, a freshman in the School of Hospitality Administration, said she makes the most of seasonal menus and tries to push herself to try something new.
"Usually, when I go into a restaurant or a store, I look at what new stuff they have because it is different every two months," Tam said, "I like to try it even if I don't know how tastes or if I've never tried it before, just because it's different every year and seasonal. I don't want to stick to one thing every time."