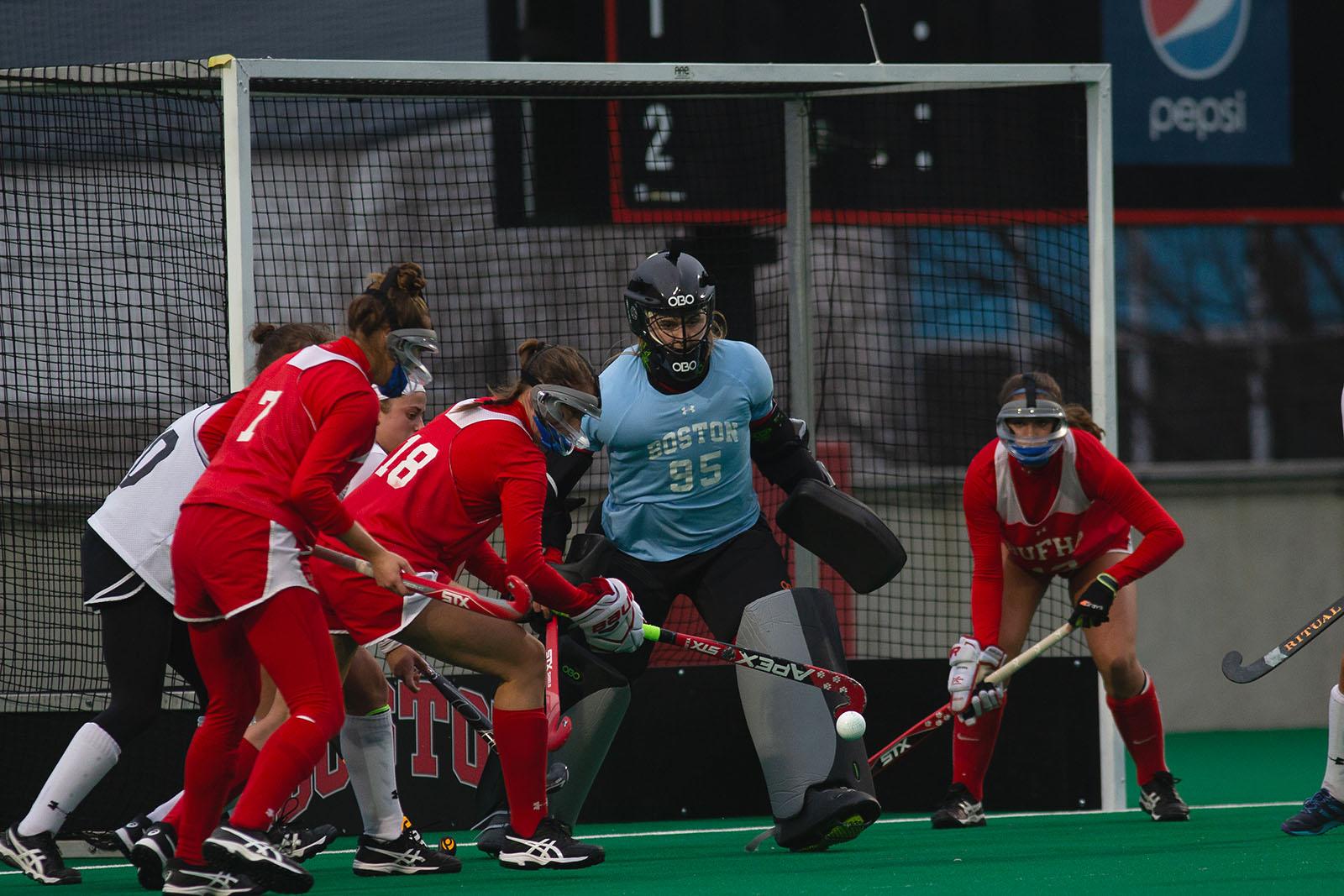 The Boston University field hockey team (4-10, 1-3 Patriot League) dropped a pair of games over the weekend at home. The Terriers have lost nine of their last 10 games.
BU was shut out on Saturday by the American University Eagles (9-4, 4-0 PL) 2-0. The offense continued to struggle for the Terriers as it has for about the past month. Since Sept. 21, they have scored more than two goals in just two games.
Despite the struggles, head coach Sally Starr said she still has faith in her team. 
"We are very close to being a really good team," Starr said.
BU was able to put pressure on the American defense but was never able to cash in. The Terriers outshot the Eagles 8-2 in the first half and 14-10 for the whole game.
Noor Coenen opened the scoring for American in the first quarter at the 6:22 mark. The second Eagle goal came from Hannah Moser in the third quarter which really gave the American complete control of the game.
The Eagles went into a prevent defense in the fourth quarter with the Terriers sending extra players up and to the offensive side in an attempt to get back into the game. 
"I think we are trying too hard," Starr said. She explained that in some situations the team is electing to take a power shot when more of a finesse shot would be better.
Senior Livy Golini started the game in goal for BU and played in the first three quarters. She was honored during the pregame along with classmate Kiley Gallagher as apart of the Senior Day festivities.
The Terriers were back in action on Sunday afternoon when they took on the Princeton University Tigers (10-4, 4-0 Ivy League), ranked number eight in the nation. 
Princeton defeated the Terriers by a score of 3-1 in a game that Princeton was in complete control from start to finish. Princeton scored their three goals in the opening half and looked much faster than the Terriers when they were on the break.
BU was unable to even attempt a shot in the first half while Princeton unloaded 15. Gallagher scored the only Terrier goal of the day in the fourth quarter. It was Gallagher's second goal of the year.
Starr said the weekend did not go as she hoped but she still saw some good things happen. 
"We felt the team made significant strides in all aspects of the game against two very good opponents," Starr said.
The Terriers have just one conference win and will need to win each of their final two conference games in order to qualify for the Patriot League Tournament.
The first will come in its next game against College of the Holy Cross (6-8, 2-2 PL) on Saturday. Game time is scheduled for 11 a.m. in Worcester.