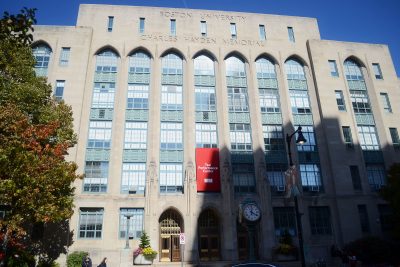 By Dana Sung and Vanessa Kjeldsen
A graffiti vandalization with pro-Hong Kong statements occurred outside of the Boston University's College of Arts and Sciences around midnight Sunday.
The graffiti, which included language like "Free Hong Kong," was removed by BU Sunday morning. The vandals have not been yet identified.
Since the first large march in Hong Kong on June 9, the Hong Kong protests have received international attention. The protests originally focused on an extradition bill for handling the suspects of crimes. The bill sparked outrage in Hong Kong residents because it would give China more legal jurisdiction.
BU Spokesperson Colin Riley said graffiti is a common occurrence in Boston.
"Unfortunately, [it happens] all too frequently," Riley said. "All you need to do is look around the city of Boston and see vandalism on the light posts, on the walkways, et cetera."
While graffiti vandalism is not too uncommon, this situation was unique since it was a clear exhibition of a political statement, Riley said.
"This is different obviously," Riley said. "I would say this is someone, some individuals, making a political statement."
The graffiti was in black spray paint, drawn in with a stenciled logo that Riley was "not familiar with." BU is not willing to share the photos of the graffiti at this point of the investigation, Riley said.
The split of government system between China and Hong Kong dates back to the "one country, two system" policy implemented back in the 1980s for the reunification of China. This policy however has an expiration date, 2047, when the semi-autonomous region is set to end. This leaves Hong Kong entirely under China's jurisdiction.
Sam Strom, a sophomore in the College of Communications, agrees with the pro-Hong Kong support on-campus.
"Well, I'm not a fan of the current Chinese government," Strom said "I think it is highly authoritarian … and the US — especially major corporations in the US — have an obligation to sort of put the ethics of supporting Hong Kong's freedom above business."
O'Neil Henry, a junior in COM, said it's valid to make a political statement using graffitti.
"Art is political," Henry said. "Yeah, I mean, if nobody's listening and you're putting it somewhere where people will listen, then it kind of makes sense."
Veronica Harris, a freshman in COM, said she supports students making political statements.
"I think it's really cool to see students standing up for what they believe in," Harris said. "I mean, we're all students here. It's Boston University. It is cool to see people standing up, fighting for what's right and what they believe in."
However, no matter the cause or story behind the graffiti, vandalism on BU property is against policy under the "Specific Violations of Student Responsibilities," section 9. Riley said that BU is trying to figure out who is responsible for the graffiti.
"We vigorously prosecute vandals," Riley said. "I would say that people right now are trying to identify the individuals. We don't know that it was a group — we do know there were a couple people that are seen doing it. But it will take a little bit of investigation to find them, if it is possible."