A line of more than 300 people snaked around the Rafik B. Hariri building that houses the Questrom School of Business to get a good seat to see Kimberlé Crenshaw, a civil rights lawyer and the mind behind the intersectionality theory, speak on Monday.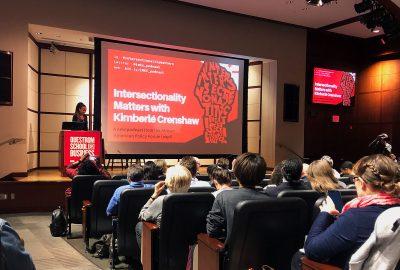 The event, which is the latest in the Office of the Provost's Diversity and Inclusion Speaker Series, had Crenshaw speak about intersectionality, which is celebrating the 30 year anniversary of its first publication. Intersectionality describes the extraordinary discrimination faced by those that identify with multiple types of minority groups and how their identities intertwine to affect their experiences.
Angela Onwuachi-Willig, the dean of the School of Law, gave Crenshaw a generous introduction describing the speaker's endless accomplishments and even compared Crenshaw to W. E. B. Du Bois in her impact on discussions of race.
The majority of Crenshaw's talk focused on how personal events in her life led to her understanding of intersectionality's personal and political effects. As a black woman, she said, her life is a string of examples of doubled-down discrimination toward those facing multiple dimensions of bigotry.
Crenshaw told a story was from her time as a law student at Harvard University — she said she made a pact with a black male colleague to stick up for each other in the face of any trouble at an exclusive party. However, when she was told upon arrival that she would have to use the back door not because she was black, but because she was a woman, it became clear that her friend was not prepared to fight this battle.
"To me, it mattered not one bit the specific reason why I couldn't walk through the front door. In my mind, whether it was because I was a woman or a black person made no difference to our mutual defense pact," Crenshaw said. "I was acutely aware that my brothers wanted me to step back and comport myself as a proper guest."
Crenshaw wrapped up her speech with a call to action for the women in the room to never enter through anyone's back door and for all minorities to demand respect from bigots before opening the floor to questions.
Thea Gay, a freshman in the College of Arts and Sciences, called Crenshaw an inspiration at the event's Q&A session, before asking advice on how her generation can continue the speaker's legacy. 
"You are such an inspiration and I want to be just like you. I think you're amazing," Gay said. "For girls that want to be like you, what do you hope that the next generation can take with us to keep building on your work?"
In her response, Crenshaw described a repeating cycle of oppression that these groups face and said she hopes the youth will not let the phenomena slip through their fingers as they may have in the past. Gay said in an interview after the event that she appreciated Crenshaw's emphasis on giving everyone a voice and making sure feminists and anti-rascists recognize the cycle they are in and use the past to advise the future.
"It's really important that we continue that idea that everybody can come to the table and everybody can contribute," Gay said, "while we look back and we think is this something that we want to continue? Is it something that we want to not do anymore?"
Lynn O'Brien Hallstein, an associate professor of rhetoric in the College of General Studies, brought her gender studies class to the event. 
"I was sitting beside a student of mine, a woman of color, and I leaned over and was telling her about the new dean and my students said, 'You know, it's so amazing to see black women in leadership at BU,'" O'Brien Hallstein said in an interview following the event.
Alana Anderson, director of programs in the Office of the Associate Provost for Diversity and Inclusion, wrote in an email that the event was meant to foster precisely this sort of action and the discussion of issues from multiple angles on campus.
"My hope that this talk and the others offered within our series can help students catalyze new thinking that they can apply to their experiences both inside and outside of the classroom," Anderson wrote. "Whether through conversations they engage in with peers in the residence halls or in student organization meetings, the hope is each of our thinking will inspire deeper dialogues and understanding."