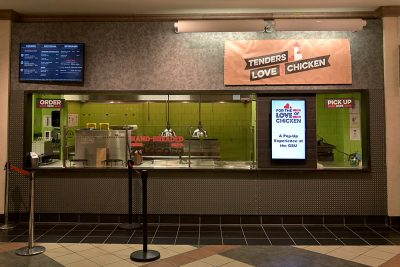 By Lincoln Currie
Tenders, Love and Chicken is the new restaurant in the George Sherman Union food court for the next two weeks in Takin' It to the Streets. The restaurant is serving chicken tenders and sandwiches, fries and more.
Paul Riel, the vice president of Boston University Auxiliary Services, said they are looking to see what the student body thinks of the pop-up.
"This is what that [Takin it to the Streets] concept is about," Riel said. "We bring in and test different brands and cycle different food options through."
Aramark — an American food, uniform, facility service provider company that BU uses for dining services — suggested the concept of a chicken tenders and chicken-focused restaurant, which the company said had success at other college campuses, Riel said.
Though Aramark was the one who suggested the change, Riel said that the success of Tenders, Love and Chicken will depend on student response.
"A big part of this would be student satisfaction," Riel said.
Riel said that the other factors to determine whether or not the new restaurant stays around are sustainability, cost, and the preparation and presentation of the food.
BU Spokesperson Colin Riley said variety and choices are important to BU's dining services, which he referred to as "one of the finest in the country in providing nutritious, well-balanced, and varied dishes."
"Some people, as you know… have dietary restrictions, some actually choose to be vegan or non-dairy or vegetarian for personal or health reasons," Riley said. "So, there's a whole range of options."
Riley said that BU's dining services are receptive to student opinion. Riley also said that bringing in new food ideas requires a lot of logistics and planning.
Tenders, Love and Chicken took about sixty days to plan, according to Riel. He also said that it takes about sixty to ninety days to bring any new food concept into existence at BU.
Student opinion on the new restaurant and BU dining service's responsiveness to students was mixed.
Anastasya Chandra, a junior in the Questrom School of Business, said she thinks BU's dining options lack variety.
"They just have the same food over and over again," Chandra said. "They don't have a lot of variety."
Francesca Sotomayor, a senior in the College of Arts and Sciences, said she thinks that BU has gotten better at being more receptive to students, but still has room for improvement.
"I think they are trying," Sotomayor said. "I know that dining this year has definitely listened to a couple of complaints, like specific complaints about tasting food better."
Regarding the coming of Tenders, Love and Chicken, Sotomayor said she thinks the new restaurant is redundant.
"I think it's like overload of chicken tenders," Sotomayor said. "I already find it harder to find healthier options."
Sotomayor felt that Halal Guys, a restaurant chain that served items such as falafel, beef, and chicken, was able to offer her items healthier than chicken tenders and she wishes Halal Guys would have stayed.
Anna Bogursky, a junior in CAS, said she is excited about the new addition to the GSU and suspected others might be too.
"I think people typically like chicken," Bogursky said.