This weekend, Boston residents headed to the Reggie Lewis Athletic Center in Roxbury to indulge in foods such as burgers, chicken wings and ice cream — only, there was no meat or dairy to be found.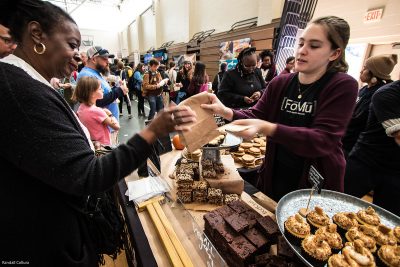 The 24th Annual Boston Veg Food Fest, hosted by the Boston Vegetarian Society, took place Saturday and Sunday, providing vegetarians, vegans and omnivores alike a place to taste plant-based food and explore exhibits and lectures on veganism. 
Evelyn Kimber, head of the event's organizing committee, said Veg Fest aims to raise awareness of the harmful effects of meat consumption and animal agriculture have on both the climate and one's individual health.  
"It's a little hub of activity that brings people together," Kimber said. "We're trying to educate about the benefits of moving towards a plant-based diet for your health, for the environment, climate and for animals."
One of the vendors at the festival was Waku, a Boston-based company specializing in herbal tea blends that are meant to improve digestive health. Samples of the various plant mixtures were provided by company founder Juan Giraldo. 
Giraldo said he wants to share the benefits veganism can have on gut health, after having experienced poor gut health in the past. 
"The tonics are made from 20 different herbs and flowers that are sourced from independent farmers in the Andes Mountains," Giraldo said. 
Veg Fest, Giraldo said, is a great opportunity for community members to find new companies.
The festival also hosted a number of speakers who presented different perspectives on the impacts of animal product consumption and shared their motivations for choosing a vegetarian or vegan diet.
Harvard University graduate students David Ding, Enrico Calvanese and Carlo Amadei shared their experiences from climbing Mount Denali in Alaska in June — the first to do so following a fully vegan lifestyle — and presented a short video documenting the entire journey. 
The team said they reached the summit on a vegan diet by eating mainly vegan energy bars, protein powders and freeze-dried meals, Amadei said in an interview prior to the event. 
"If you can have some sort of vegan diet in an extreme environment like Denali," Amadei said, "it is easy to have it in a city-like environment."
Ding said their group liked presenting at Veg Fest because they had the opportunity to reach vegetarian and non-vegetarian people alike.
"That helps to build a community, spread a message and involve people that wouldn't normally see this kind of thing," Ding said.
Aysha Akhtar, a neuroscientist who spoke at the festival, promoted the publication of her new book, "Our Symphony With Animals. On Health, Empathy and Our Shared Destinies," which documents studies, experiences and stories on the correlation between empathy and the treatment of animals. 
Akhtar said she hopes readers will be able to view animals as having emotions that are similar to those of humans. If people learn to empathize with animals, she said, they will be more likely to go vegan.
"[I want] to show just how deep these relationships with animals can be and how much their lives are intertwined with ours," Akhtar said. "How we treat them, how we think about them does play a role in our lives."
Clarisse Flon, head chef of Café Forty One, an all-vegan restaurant in London that specializes in French patisserie, gave a live demonstration on how to bake a plant-based passionfruit tarte.
Flon said being a vegan chef in a field that is dominated by the traditional use of animal products has been a rewarding challenge. Many aspects of the culinary industry are still adjusting to the sudden popularization of veganism, Flon said.
Leah Cussen, a student at Northeastern University, said she attended Veg Fest for the first time this year. As a vegetarian, she said she thoroughly enjoyed the ability to learn more about the diet and lifestyle.
"I think it's really cool that they have something like this," Cussen said. "I think it's good for people to learn that veganism is an option."